General Financial Aid Requirements
Applicants must:
Be a Credential student pursuing an education and career in teaching
Be accepted into an Undergraduate or Credential Program
Be enrolled at least half-time (6 units or more)
Meet eligibility requirements for various Grants, Scholarships, Work-Study and Loans
Submit FAFSA by March 2nd (may apply after March 2nd for Pell Grant and Student Loans)
Submit the Stan State Online Scholarship Application by March 2nd
Complete TEACH Grant counseling and agreement to serve
---
Financial Aid Incentives for Future Teachers
Pell Grant
State University Grant (SUG)
Cal Grant
TEACH Grant (The Federal Student Aid TEACH Grant will support future teachers for up to $4,000 per year in exchange for teaching service in a high-need field. Minimum 3.25 GPA required.)
Middle Class Scholarship
Campus-based and private scholarships
Student Loans
Work Study 
---
Math & Science Credential Reimbursements
Math & Science Teacher Initiative (MSTI)

​The Math and Science Teacher Initiative (MSTI) provides support and helps guide future Single Subject Math and Science teachers through credential examination, preparation resources, and reimbursements.

Who qualifies?

All Single Subject Math or Science future teachers and credential candidates.

Students must be entering the Single Subject Credential Program (SSCP) the following semester upon the submission of their application.

What can be reimbursed?

All eligible candidates can receive the following reimbursements: CBEST, CSETs, Cal State Apply Application, Credential Program Application, and Live Scan.  

How do I get my reimbursement? 

Email our office to fill out a simple reimbursement form!

By University policy, for each reimbursement, an itemized receipt(s) will need to be submitted, showing the cost of the exam or application with the name of the recipient.
For more information, contact the Teacher Recruitment and Retention Program (TRRP) at teacheroutreach@csustan.edu or Alfredo Vargas at avargas25@csustan.edu.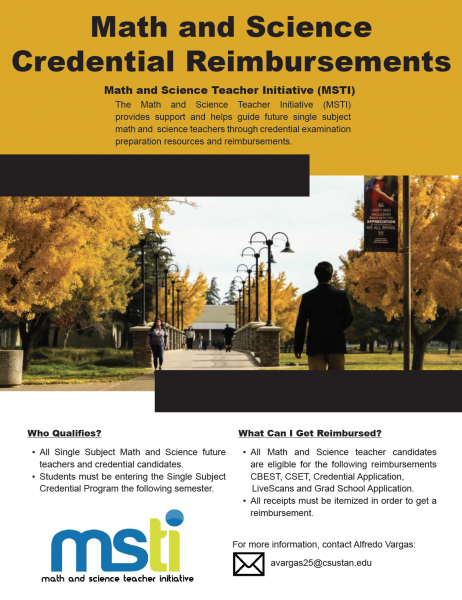 ---
The Robert Noyce Teacher Scholarship Program
The Robert Noyce Teacher Scholarship Program, funded by the National Science Foundation (NSF), provides scholarship opportunities for math and science majors and degree holders to support them in completing a Secondary (Single Subject) Teaching Credential. Scholarship recipients will benefit from a cohort support system, enhanced learning and professional development opportunities, and one-on-one mentoring from Stan State Math and Science Faculty.
Math and science majors who have attained Junior level status, career changers/returning students who have been admitted into the Single Subject Credential Program are eligible to apply!! 
The Robert Noyce Teacher Scholarship Program will award annual scholarships in the amount of $10,000 in exchange for teaching service upon completion of a credential. Scholarships will be awarded each academic year and can be received by a recipient for a maximum of three years.
For more information, check out their webiste! 
---
Applying for Financial Aid
---
For more information on financial aid incentives eligibility requirements and application process visit the Financial Aid website, schedule an appointment with Financial Aid advisor Christina Goodeill through email at cgoodeill@csustan.edu or 209-667-3336.