Newsletters
Stay up to date with the latest University events and announcements with our e-newsletters. You can personalize your communication experience in Faculty & Staff Digest and Warrior Weekly by using the "personalize this email" link in the footer of your newsletter.
Faculty & Staff Digest – The latest events, announcements, deadlines and more delivered three times a week to faculty and staff. (formerly StanEvents & Announcements)
Warrior Weekly (WW) - Events and announcements delivered to students every Wednesday.
Subscribe to Warrior Wire – Warrior Wire is a monthly email connecting alumni and community members with the best content and events from Stan State.
View the Internal Communications Guidelines for more.
Event & Announcements Submissions
Do you have an event or announcement to share with the campus community? Refer to our table and FAQs below for submission procedures.
Announcement submissions received by noon on Monday will be posted by Wednesday during that week. Submissions received after noon on Monday will be posted by Wednesday the following week.
We encourage events in 25Live to be confirmed at least four weeks prior to the event date. To allow time for the confirmation process, events should be entered into 25Live five or six weeks prior to the event date.
The timeline is approximately one/two weeks for a confirmed event to be published to the UEC, SEA & WW. The turnaround time will vary during heavy event season.
Events are published to the newsletters on a weekly basis, on Tuesdays (so they will start showing up on Wednesdays).
Prior to entering your information in 25Live, please confirm you have all the following items in the checklist.
Event Submission Checklist
Event name/title: make sure it can stand alone so the reader will have an understanding of your event even if only the title is displayed. Avoid making it too long.
Event date
Event start and end time
Location
Event Type/Category
Contact person and contact info
Event description: include the most important information at the beginning of the description and focus on describing why people will want to come to your event. Most readers will skim the first few sentences. See FAQ #10 below for more information.
Registration link/info
Registration deadline: include if registration ends at a date/time prior to the event.
Image/thumbnail: The image should convey the event's message or visually represent something about the event or highlight the speaker. It should be at least 1500 x 1000 pixels (width x height) and not have text, plus it'll be aesthetically pleasing if it's sharp quality. See FAQ #5 below for more information.
Important! See the Virtual Event checklist on the University Events Office's website for additional logistical details and forms if you will have a speaker, volunteer participants, or other components that need assessment by Safety & Risk Management.
Securing Your Zoom Sessions
Do not include the direct Zoom meeting link, especially if posting to the public University Events Calendar. Zoom has built-in registration which is very useful and will provide a registration link. See instructions on how to set up registration for Zoom sessions. Another option is to use an email address or link to an MS Form where people can register. Read more from OIT on Securing Zoom Meetings.
Events with a specific date(s) and time range should be promoted on the UEC – Please use 25Live
Posts about registration periods, deadlines or ongoing happenings with no specific date and time are better served as announcements. Non-event announcements related to a particular date (such as a deadline), but they are not posted on the University Events Calendar – Complete the announcement submission form
The exception: If the event is hosted by an external entity (i.e., another CSU campus) then it does not go in 25Live – Complete the announcement submission form
The image should convey the message or visually represent something about the announcement or the event or highlight the speaker.
To enhance accessibility, the images used on the University Events Calendar and in the newsletters should be free of text. If there is a secondary supporting image that has text included on the graphic, we can add it to the body of the event announcement on the University Events Calendar. The text should still be minimal and should support or emphasize a key topic or key message for the event. Alternative text needs to be provided with the additional graphic as well.
Visual Guidelines
Size: 1500 x 1000 pixels (width x height)
Quality: crisp, clear image (non-blurry, grainy or pixelated image)
No text, good contrast
Visual Examples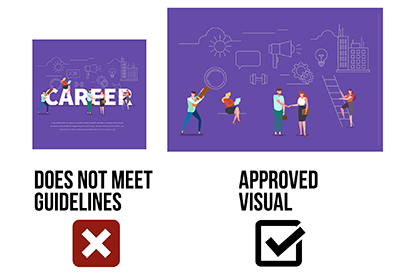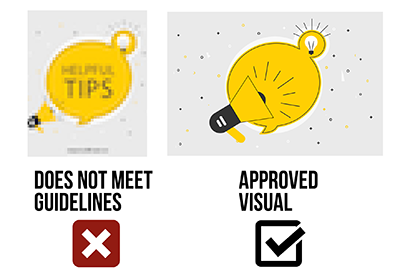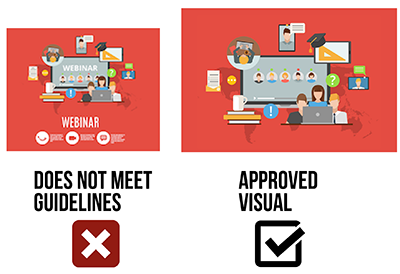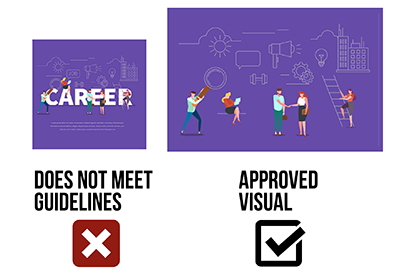 Copyright
When adding an image to your event, make sure you have all of the rights and permissions to use the image. Images pulled from Google images or from news sources should not be used unless you have explicit written permission.
Unsplash photos are made to be used freely. Please note, some photos require a premium subscription. If you use Adobe Creative Cloud, we also recommend using Adobe Stock's high-quality images included with your account.
Photos can be downloaded and used for free
Commercial and non-commercial purposes
No permission needed (though attribution is appreciated!)
What is not permitted for photos from Unsplash.com

Photos cannot be sold without significant modification.
Compiling photos from Unsplash to replicate a similar or competing service.
Using 25Live allows users to see all events scheduled and times, often helps alleviate overlap.
Events submitted in 25Live that need promotion will be posted to the UEC and shared in SEA and WW accordingly.
25Live has a built-in checklist for liability, safety, facilities support and tech support.

If volunteers are participating in your event, you must work with the Human Resources Department and submit a Paperless Volunteer Form for approval prior to the performance of volunteer duties
If guest speakers will be monetarily compensated, you will need to fill out the Guest Lecturer Form
If you have an event that you wish to make your audience aware of ahead of time (more than a month in advance), submit an announcement using the announcement submission form.
Submission should include the event name, description of the event, with a call to action asking the audience to mark their calendar, event date/time and a note that details are forthcoming.
Make a note in the comments box, "This event is/will be entered in 25Live. We would like to send an announcement now in SEA/WW so faculty/staff/students can mark their calendar now."
Event descriptions should not be overlooked. Try keeping your description short and sweet, but don't leave out key details such as event experience and value provided by attending. Below are some of the items to keep in mind when writing an event description.
Event descriptions should answer these basic questions:
Why should someone attend?
What will they do at the event?
Is it free? Deadline to register?
Limited space, RSVP required?
Guest speaker presenting? If so, who and what will they speak about?
Free beverages/food? Purchase food?
A chance to win prize(s) or swag?
The goal of an event description is to create a sense of urgency and is your opportunity to maximize the attendance of people who will enjoy your event. Spark their interest!
Do:
DO keep sentences and paragraphs short and easy to scan
DO double-check your spelling
DO provide links to relevant content, linking words that accurately describe the linked page
DO spell out acronyms that may be unfamiliar to most audiences
DO indicate if an RSVP is required
Don't:
DON'T underline important words, instead use bold or italic
DON'T say "click here," instead link descriptive words
DON'T paste raw URLs, instead link descriptive words
Background
The Division of University Advancement, in collaboration with the University Communications Advisory Group and the GREAT Student Communications Workgroup, evaluated and analyzed how we communicate internally as a University. A campuswide survey was conducted to gather additional feedback. Many survey respondents expressed receiving too many campuswide emails, which stifle communication about important topics and events. The survey indicated a weekly email streamlining University news and announcements to faculty and staff is the preferred method of internal University communication.