Stan State Staff Council will again be offering a fabulous "Final Exam Care Package." Students will receive a Stan State Warrior Head tote (with a front pocket) filled with over 20 items such as granola bars, fruit snacks, pretzels, popcorn, crackers, soups, cookies, chips, candy, and drinks to help our students get through this most demanding time. Students will be randomly selected to win a 'Golden Warrior Ticket,' which contains a Stan State Laptop Bag. This special student will be delighted to receive an on-campus package of goodies from you, just in time for finals! We always receive tremendous positive feedback on our care packages. We apologize for not being able to accommodate special diets.
Please take a minute to show your student assistant, student, family member, or friend how much you care and order a care package!
 Care Package $25.00
Due to the popularity of this program, we ask that we receive your response no later than Monday November 28, 2022, so that we have sufficient time to prepare the packages. We will notify students that they have received a care package. The packages will be available for pickup Thursday, December 1, 2022 - Friday, December 9, 2022, at the Mary Stuart Rogers (MSR) Building Room 250 (open Monday - Friday, 7 a.m. - 12 p.m.).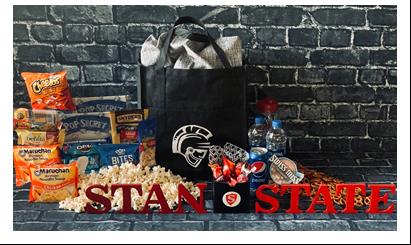 We appreciate your continued support.