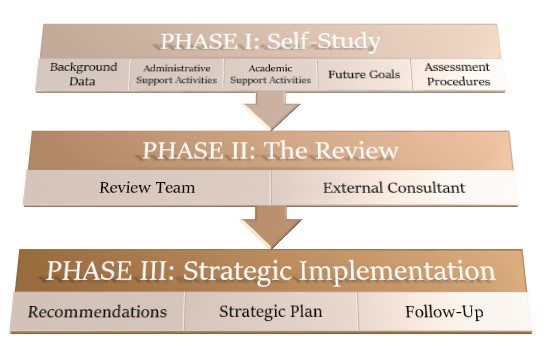 Seven key dimensions are addressed in the Support Unit Review Process:
Introduction and mission of the unit.
Role within the university and relationships to other units.
Plans and the planning processes of the unit.
Assessment processes and effectiveness of the unit, including measurement of outcomes.
Resource allocation and use.
Evaluation of the operation of the unit.
Special issues to be addressed.
Outcome
A well-designed and agreed-upon Strategic Implementation Plan for enhancement of the administrative or academic support unit. 
Strategic Implementation
Explict, realistic, and viable to reflect the aspirations of each unit.
Improvement
Renewed focus for effective use of resources currently available. 
FOLLOW-UP
Annual Reporting is necessary for the following:
Consistent enhancement of support units
Achievements in relation to the unit's and the university's strategic goals and priorities
Contributions in addressing each of the specific WASC concerns that were identified in the most-recent WASC evaluation report