AA Budgeting Practices  |  AA Resources: Budget Priorities  |  AAStrategic Plan Priorities
Academic Affairs (AA) leadership is striving to appropriately align programs and resources across the colleges, as a division, with strategic priorities to meet overall student and regional need.
Academic Year 2016 to Present
Increasing tenure track hires
Taking steps to right-size our base funding for lecturers
Creation of Course Budget Report
1. Unfunded Commitments
We are taking steps to identify and seek base funding for our ongoing commitments that are currently funded by one-time dollars. 
PT and FT Lecturers
Filling Partial Salary Lines
Replenishing the Instructional Equipment and Technology Reserves

Moving from a centralized to decentralized budget process
Formalized staffing request process
Posting budgets in a timely manner
2. Student Success 
Our budget priorities reflect our commitment to student success and institutionalizing key programs that have demonstrated effectiveness.
New Tenure Track Lines
Institutionalizing Graduation Initiative Programs
Requesting funding for new advisors within the Division of Academic Affairs
Keeping FERP lines whole
Cost recovery
Position control returned to Academic Affairs 
3. New Strategic Initiates
With our eyes on new strategic initiatives like a potential capital campaign for the campus, we are looking at ways to ready ourselves and our departments for new projects on the horizon. Additionally, new investment at the Stockton Campus solidifies and builds upon our commitment to serving our entire region. 
Graduate Dean & 2 Associate Deans
New Support Staff and Instrument Technicians
Director of Academic Technology
New Service Learning, ORSP, and Stockton Staff
New TT Faculty for Stockton Campus
New RSCA Funding
New Operating $$ for the Colleges, Library, and Faculty Affairs
Building our 2019-2020 Budget Priorities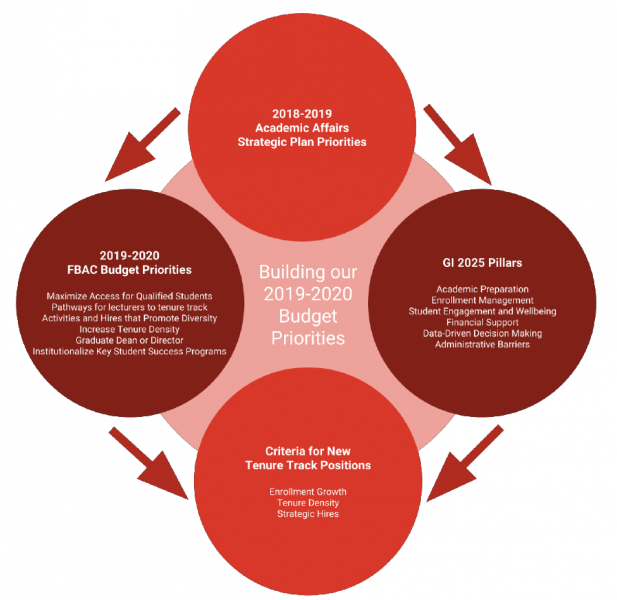 The division of Academic Affairs relied on key University Strategic Plan priorities, the FBAC Budget Priorities put forth by the Academic Senate, and the GI 2025 pillars to craft budget priorities for the year ahead. The 2019-2020 FBAC budget priorities call for maximizing access for qualified students, creating pathways for lecturers to tenure track positions, having activities and hires that promote diversity, increasing tenure density, creating a graduate dean or director position, and institutionalizing key student success programs. GI 2025 Pillars include academic preparation, enrollment management, student engagement and wellbeing, financial support, data-driven decision making, and removing administrative barriers. The criteria to inform the development of new tenure track positions include: enrollment growth, tenure density, and strategic hires.
Budget Plan
The 3-year plan within the division of Academic Affairs to help to move the University's unfunded recurring commitments into the base budget, and specifically address the need to appropriately fund in base the temporary faculty costs, primarily involves three strategies:
The provost will continue to request new base funding for temporary faculty. When Academic Affairs receives new base funding, the provost allocates that new base across the colleges into their temporary faculty budget lines for contingent faculty based on a combination of projections of the need for temporary faculty salaries and salary savings available. 
Colleges make strategic decisions within their budgets to shift allocations to the temporary faculty lines as priorities dictate; and
The provost and deans are now able to make better data-informed decisions regarding allocation of resources based on data analytics provided by the University's newest division, Strategic Planning, Enrollment Management, and Innovation (SPEMI), providing access to the new Academic Unit Profiles – dashboards that show historical and comparative trend analyses regarding student enrollment, credit hours production, FTES, faculty hiring and instructional cost, and the Course Budget Report created by Faculty Affairs/Academic Affairs. This enables the provost and deans to collaborate together to ensure that college allocations reflect student demand, regional needs for program growth and development, and other institutional priorities.
New Budget Model
Under Academic Affairs' new budget model, all colleges and units are experiencing a more decentralized budget. This approach empowers the deans and AVPs to be more strategic in their planning and spending, as well as making the deans/AVPs more accountable for their respective budgets.
For the first time in recent history (reaching back to the period captured by the last full reaffirmation review), college deans now have a salary line in their college budgets for temporary faculty, rather than that line being centralized in the Office of the Provost. Additionally, internal service funds (for self-support cost recovery) will be reimbursed back the departments, based on level of support, freeing up general fund resources. These modifications, coupled with the new decentralized ability to carry-forward unexpended funds from one year to the next, has allowed colleges to exercise internal authority among the stakeholders to allocate resources accordingly.
Priorities and Progress
​2017-18
Academic Affairs Strategic Plan Progress
​​2018-19
Implementation
Coming soon!