About The Provost
Dr. Richard Ogle
Provost & Vice President for Academic Affairs
Dr. Richard Ogle is a clinical psychologist and professor of psychology, currently serving as Provost and Vice President for Academic Affairs at Stanislaus State since June 15, 2021. Prior to this appointment he served in a number of senior administrative roles at University of North Carolina Wilmington.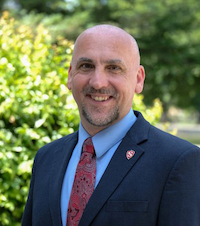 Born and raised in Southern California, Dr. Ogle is a first-generation high school and college graduate who is inspired to engage and mentor students (especially first-gen), faculty, and staff in the transformational experience of higher education. He earned his BA in psychology from Point Loma Nazarene University, his MA in psychology from San Diego State University, and his PhD in psychology from the University of New Mexico. He completed his clinical internship and post-doctoral training at the Veteran's Administration Health Care System of Puget Sound Seattle Division. He has nearly 20 years of experience in higher education, and for the past 15 years, has served collaboratively and creatively in a variety of progressively responsible administrative/leadership roles at all academic levels of UNCW including clinical training coordinator, graduate coordinator, department chair, senior associate provost, and interim dean. Dr. Ogle is an award-winning teacher having received three institution-wide teaching/mentoring awards. He is also a strong scholar having contributed to his discipline through research in the field of substance abuse and the role of alcohol and other drugs in the perpetration of various forms of aggression/violence. 
Dr. Ogle is a licensed psychologist/health-services provider, a sought-after clinical trainer/consultant, had a successful part-time clinical psychology practice for 15 years, and has served in leadership positions on state and local boards leading him to be interdisciplinary by nature and have broad and deep experience in advocacy, strategic planning, and change management.