Contact Information
Mailing Address:
Office of the President
California State University Stanislaus
One University Circle
Turlock, CA 95382
See: Maps & Directions
Building Location:
Mary Stuart Rogers Educational
Services Gateway Building
Building #27: See Map
President's Office Staff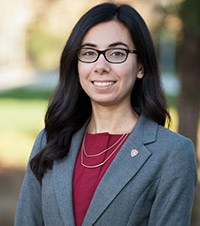 Amanda Theis
Special Assistant to the President
E-mail
Amanda Theis serves as the Special Assistant to the President. Amanda has been incredibly busy working on a variety of projects, but most importantly this year, she will be lending staff support to the Presidential Transition Team and chairing the Presidential Inauguration Committee. She is responsible for the general oversight of the President's Office including the office budget, staff, and the calendar. She also serves as our liaison to the Chancellor's Office and Trustee Secretariat. You've probably seen her out and about with President Junn during her first 100 days on campus! Prior to joining the President's Office in September 2015, Amanda worked in the state legislature for six years. She is a graduate of Sacramento State and is currently pursuing her master's degree in public administration at Stanislaus State.

Neisha Rhodes
Director for Presidential Initiatives
E-mail
We are delighted to welcome Neisha Rhodes to Stanislaus State as the Director for Presidential Initiatives. Neisha began in this new role Oct. 1, 2016 and will assist the University in coordination, development and implementation of various priority initiatives and special projects including the University Strategic Plan,  the Graduation Rate Excellence and Assessment Team (GREAT) and Administrative Recruitments/Searches. She will also manage campus policies and oversee the coordination of external audits. Neisha has more than 15 years of administrative experience, and most recently served in the Provost's Office at CSU Dominguez Hills, where she is also an alumna.

Bridgette Hines
Office Assistant
E-mail
Bridgette Hines serves as the Office Assistant in the Office of the President. In addition to assisting staff with special projects and initiatives, she is responsible for coordinating President Junn's calendar and travel, as well as tracking office expenditures. Bridgette also plays a major role in mentoring our two student assistants, Precious Vega and Dwight Tisby. This is Bridgette's 5th year working for Stanislaus State; she has also worked for Housing and Residential Life as well as the Provost's Office. She is a Stan State alumna and is currently pursuing her master's degree in English at Stan State.