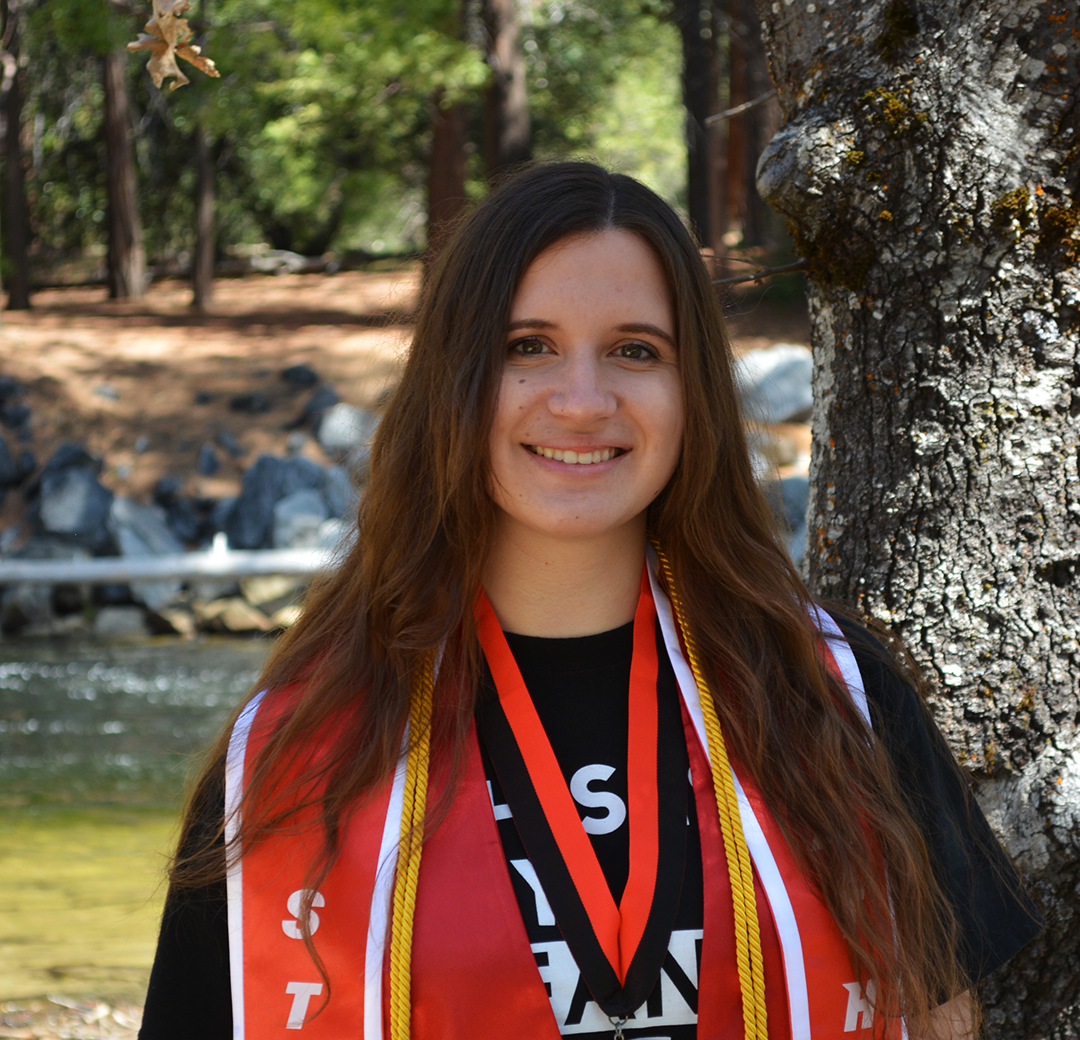 Elissa La Comb admits the first time she heard of Stanislaus State was when she was offered an athletic scholarship to bring her 6-foot-2 frame to the women's basketball team. 
"I toured Stan State and absolutely fell in love with the serene campus that reminded me of the Sierra Nevada," La Comb said. 
She found her way to Stan State, and found herself as she pursued dual degrees, a Bachelor of Science in Geography and Bachelor of Arts in Criminal Justice. 
"I was a student-athlete for most of my life and when the pandemic hit, that was taken away from me," La Comb said. "I had to adapt to a life away from campus and away from my team and the sport. It was also difficult to be engaged in my academics during the pandemic. I missed the personal connection I had with my professors and classmates. 
"Finally, when we came back to in-person learning, a research position opened in the Center for Applied Spatial Analysis that would allow me to learn more about geography and help me attain my goal of attending graduate school. This meant that I had to leave my basketball team. It was stressful and scary and exciting all at the same time. All of these changes, however abrupt, happened for a reason. I am going to graduate school, I have career-related experience, I am more confident and comfortable with myself. These changes have helped shape me into who I am today and have taught me how to overcome change and new challenges." 
La Comb will pursue a master's degree in recreation administration at Sacramento State with a long-term goal of becoming an interpretative national parks ranger. 
"I want to work in Yosemite," La Comb said. "In grad school there is a possibility that I will work to create programs for youth to experience outdoor recreation. Having lived in Turlock, it was difficult to go on a hike or recreate in the area. I needed a car or a free weekend. What if there were school programs that allowed youth to travel to areas such as national parks, state parks or national refuges nearby? If I am successful, then the youth of the Central Valley would have more opportunity to learn and understand the environment. Combined with my knowledge and access to the park system as an interpretive ranger, youth of the Central Valley would be given opportunity to see places wild with nature." 
#StanGrad File
Degree/Credential
Bachelor of Science in Geography, Bachelor of Arts in Criminal Justice
What memories stand out most from your time at Stanislaus State?
"The memories that stand out the most are from my senior year. It was a time when a lot of change happened personally and in my friendships. I transitioned away from being a student-athlete and found more time to myself. In that empty time, I found I was enjoying the company of my friends a lot more. We hung out at different times of the week, had BBQs and picnics, traveled to Santa Cruz and stayed up late just talking to one another. Their friendship is what has become the most memorable and meaningful from my time at Stan State."
Which faculty or staff member had the greatest impact on you, and why?
"Alison McNally in geography and Jason Pourtaverdi in criminal justice have both had great impacts on me in my courses at Stan State. They are so passionate about their fields of study, and I aspire to be like them when I am in my chosen career educating visitors at National Parks. I want to be able to inspire my listeners to go out and discover and understand more of the world, like my professors have been able to for me and many other students. With both Dr. McNally and Mr. Pourtaverdi, I was viewed as a whole person, not just a student trying to get a grade and pass the class. They made me feel heard and seen. I am grateful for their mentorship these past few years and hope to stay connected in the future."
What advice would you give to current and future students?
"Use your resources around campus! There is a place for every student at Stan State. I was lucky enough to enter college as an athlete, so I had a built-in community to support me, but I still used the Academic Success Center and Tutoring Center that first year. There are many resources on campus to help students feel included, such as clubs. The Tutoring Center is a must for many students. Personally, I had a D in a biology course and used the Tutoring Center to finally end the class with an A."
---
Note: This article is part of the StanGrad series highlighting Stanislaus State students who are part of the Class of 2022. Read more StanGrad profiles.