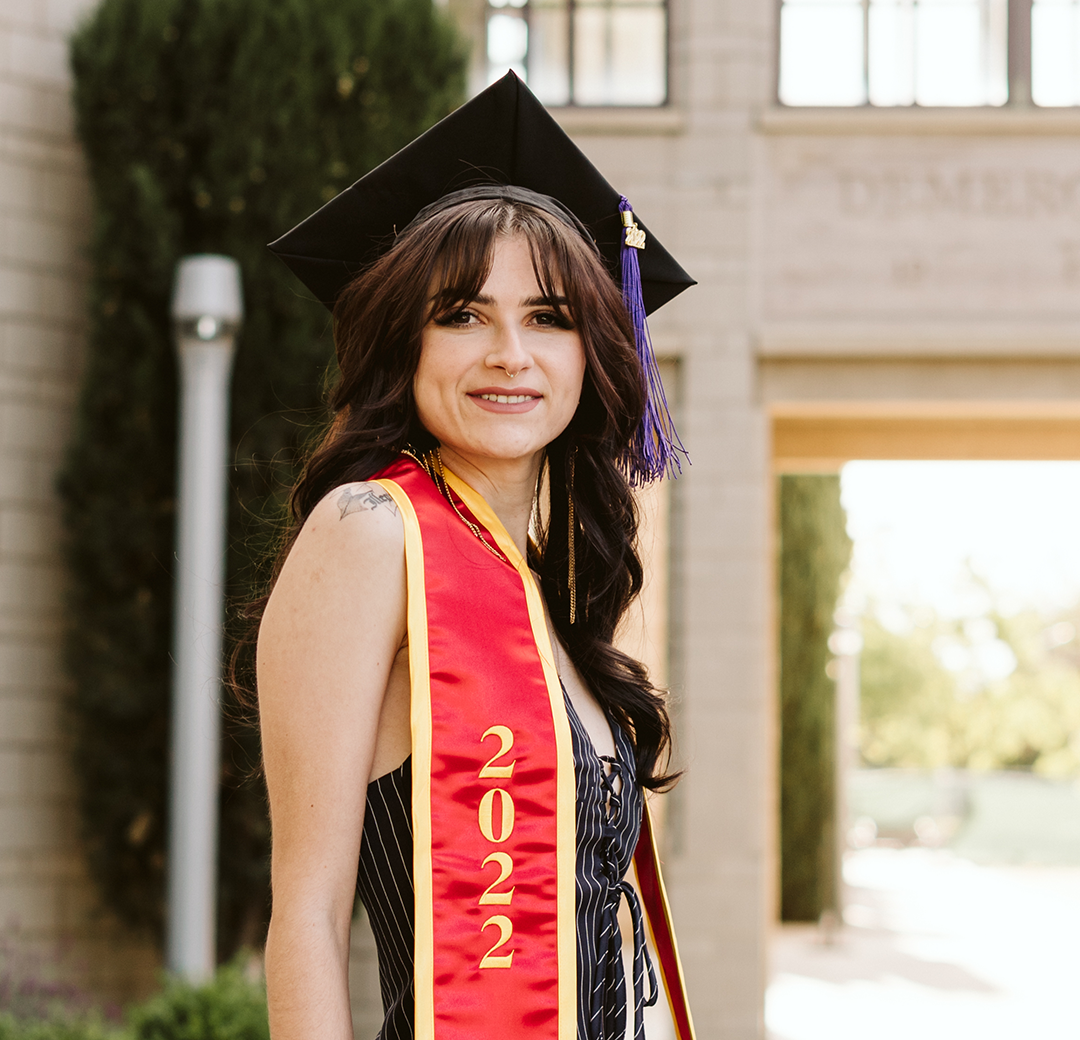 Sierrah Leal arrived at Stanislaus State from Patterson High School with very specific aspirations. 
She dreamed of working in forensic science and a meeting with the late Biology Professor Jim Youngblom set her on her path. He sat down with her in 2015 and laid out the necessary curriculum for her to attain a minor in the relatively new scientific field. 
"Many times, navigating the career path I chose was difficult being that forensics in the U.S. had only just been looked at as a topic of scientific interest in the 1980s, but not many had the answers I was looking for in terms of which direction to go or what to do," Leal said. "I feel that this adversity has better prepared me for the realities of the world and my future work as it has required me to improve my problem-solving abilities which I can carry with me throughout my lifetime." 
She dreams of working as a crime scene investigator with an emphasis on evidence collection, preferably in the region she calls home. She has other ideas about how to use her criminal justice degree as well. 
"I want to build on my current employment as a special education paraeducator and receive my teaching credential to teach elective criminal justice courses to more schools in our region," Leal said. "Criminal justice related classes were not available at my high school. I feel that the rates of youth delinquency in relation to gang or criminal activity have increased in my lifetime in the Central Valley." 
Introducing children to elements of the criminal justice system and career opportunities in the field might lower juvenile delinquency rates in our region, Leal said. 
That she is qualified to teach is evident in the impact she has had on others during her time as a student. 
"She's helped me through my own journey at school as a tutor and I have never had better grades or understanding for college level schooling," said Alex Casias, a fellow Stan State student and member of the Custodial Services staff. "Besides that, she is the kindest person, never expecting anything in return and always giving everything. She has done so much for me and others." 
#StanGrad File
Degree/Credential
Bachelor of Arts in Criminal Justice 
What memories stand out most from your time at Stanislaus State?
"Being a commuter student, much of my time was spent driving to and from campus, because of this, many of the memories that stand out about my time at Stan State are the classes in which I had passionate professors who inspired me and guided my path of interest when it came to making choices about my education." 
Which faculty or staff member had the greatest impact on you, and why?
"The faculty member who had the greatest impact on my education was Dr. Jim Youngblom. As a freshman, I had difficulty navigating my educational pathway which was to be focused on forensics. Dr. Youngblom introduced me to the forensic science minor program. He sat down with me in 2015 and laid the foundational groundwork that would guide me in seeking out a career in criminal justice here at Stan State." 
What advice would you give to current and future students?
"The advice I would give to current and future students is to go at your own pace and be realistic about what kind of a workload you can reasonably manage. Keeping your mental state in a good place is essential to making it to the end. Getting your degree is truly not a race. Everyone should try to work through their degree at an enjoyable pace so that you can enjoy your coursework and retain information you will use in the future rather than just focusing on a passing grade each semester." 
---
Note: This article is part of the StanGrad series highlighting Stanislaus State students who are part of the Class of 2022. Read more StanGrad profiles.