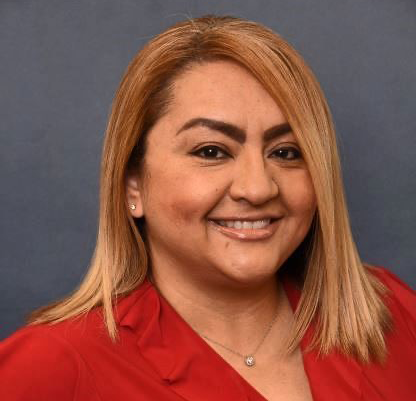 Solange Del Castillo was working to help support her family when she decided to satisfy her educational goals. The product of Stockton's Edison High School enrolled at San Joaquin Delta College, joined the Warriors on the Way (WOW) program and is about to be awarded a Bachelor of Arts in Communication Studies from Stanislaus State. 
She not only has set herself up for a brighter future — beginning with her pursuit of a master's degree — Del Castillo left a lasting impression at Stan State. 
"Her academic performance has been exemplary without exception, as her grades indicate, but more importantly she takes extra steps in her classes to ensure that learning environments are more meaningful and engaging — not only for herself but for her colleagues as well," said Professor Keith Nainby. "These qualities led me to invite her to serve as a teaching assistant in the writing proficiency course I am teaching in her final semester here at Stan State, and her work in this capacity reflects her exceptional existing skills and her tremendous future promise as an educator who knows how to motivate learning." 
Del Castillo said returning to school, discovering WOW and now pursuing a master's degree are the best decisions she ever made. 
"I have learned that I am able to accomplish anything," she said. "I was able to learn something new and get through it all with straight As. It was time for me to make a difference for my family and myself." 
Graduate school is ahead of her, but Del Castillo has an eye on helping others, just as she helped fellow students. 
"Eventually I want to work with the youth in my community to help them see their potential and help with academics placement," Del Castillo said. "I also want to get into a corporate position to help community youth with development and job placement." 
#StanGrad File
Name
Solange Del Castillo
Degree/Credential
Bachelor of Arts in Communication Studies
What memories stand out most from your time at Stanislaus State?
"My fondest memories are of the people that I have met and gone through these past few years with, as well as the long nights trying to work through assignments and the feeling of accomplishment at the end of each semester." 
Which faculty or staff member had the greatest impact on you, and why?
"Dr. Keith Nainby and Dr. Michael Tumolo were the two faculty members that really helped me through so much. Dr. Nainby was my academic advisor and my professor in a few of my communication classes. Dr. Tumolo was my professor in three of my communication classes. Both were instrumental in my growth as an individual and a writer. I am truly thankful for the time that they gave me, especially when I was applying for my master's program. I am lucky to have had them both in my corner as I went through my Stan State life." 
What advice would you give to current and future students?
"Be kind to yourself. Make time for yourself to enjoy Stan State fully. This time will go by super fast. Make friends and network as much as you can. Stay on top of your classes and it's OK to ask for help. Pay attention to your transcript and that everything is recorded correctly." 
---
Note: This article is part of the StanGrad series highlighting Stanislaus State students who are part of the Class of 2022. Read more StanGrad profiles.