The University Earned Spots in U.S. News & World Report's "Best Colleges 2021" Rankings in Four Categories: Social Mobility, Best for Veterans, Best Value and Top Public Schools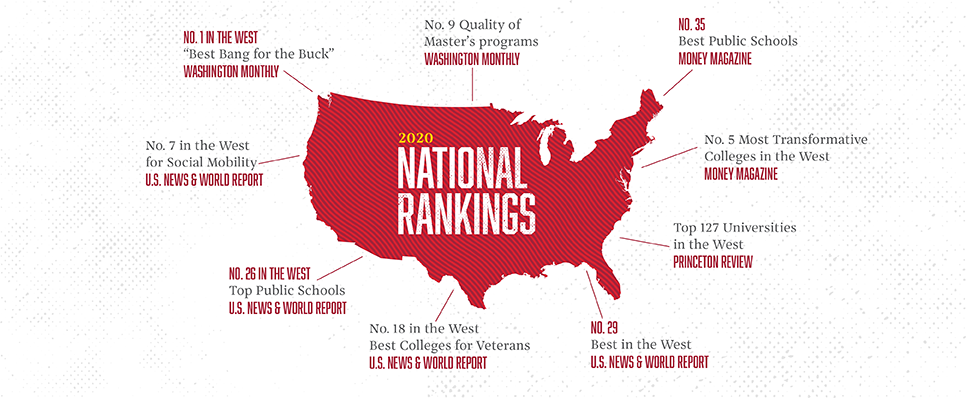 California State University, Stanislaus continues to be consistently recognized as one of the best universities in the Western United States as the campus earned spots on U.S. News & World Report's "Best Colleges 2021" rankings in several categories. 
The publication announced today the results of its annual assessment of colleges and universities, and Stanislaus State placed in the top 30 on four rankings of colleges located in the West: 
No. 7, 

S

ocial 

M

obility

No. 11, 

T

op 

P

ublic 

S

chool

 

No. 18, 

B

est 

Colleges for Veterans

 

No. 29, Regional Universities (West)

 
​The announcement marks another year in which Stan State earned inclusion in the esteemed rankings that provide data-driven information and guidance to prospective students and their families as they weigh college options. 
U.S. News & World Report's methodology gathered data from 15 areas related to academic excellence including retention, graduation rates, faculty resources, peer assessment, financial resources and other metrics, then ranked schools according to a composite score. 
In addition to the online report, the publication will issue most of its college rankings with more robust datasets in its "Best Colleges 2021" guidebook, available in bookstores Oct. 27. 
Stan State's repeated recognition as one of the best universities in the West reinforces its reputation for fostering a vibrant learning environment where students can develop a passion for lifelong learning while preparing for their future careers.