Victoria Coffey
I am proud to be a part of the first Cohort in the M.S. of Biological Sciences here at Stanislaus State. My thesis title is PHB degradation by Marine Bacteria and my advisor is Dr. My Lo Thao.  My research is based on trying to solve plastic accumulation in our oceans. My biggest passion in life is the ocean, and every time I go to the coast, I see more garbage in the water, especially plastics. Many companies are starting to produce biodegradable plastics and I want to know if they are degradable in a marine setting. Hopefully, my research will get us one step closer to ending the plastic crisis in our oceans.
Katherine Russell
I'm broadly interested in behavioral ecology and evolution, particularly behavioral variations and adaptive responses, and the fitness consequences of such variations. For my thesis, I will be studying animal personality in California ground squirrels, and correlations with seasonality, body condition, parasite load, and activity. The goal is to discover the traits or adaptations that allow CGS to be successful in a human-disturbed landscape where other species struggle. Dr. Jennifer Cooper is my advisor. When I'm not out trapping squirrels with fellow members of the Squirrel Team, I'm baking or playing with my dog, Mila.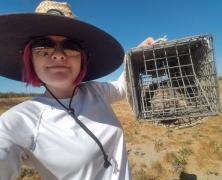 Lalayna Hablutzel
I love being in nature and observing the diversity seen in nature, which has inspired me to study biology. My major interests are in evolutionary biology, population genetics, and conservation biology. For my thesis project, I am studying how major histocompatibility (MHC) genotypes influence fitness-related traits in the California ground squirrel. Under the guidance of Dr. Cooper, I am gaining experience working in the field and in a lab. I enjoy visiting our local wildlife refuges to capture squirrels at various locations, but I also love working in our lab to genotype individuals and quantify their parasite loads. These experiences will help prepare me for a future career in conservation biology. In the future, I hope to use genetic data to help endangered and keystone species that are native to California.