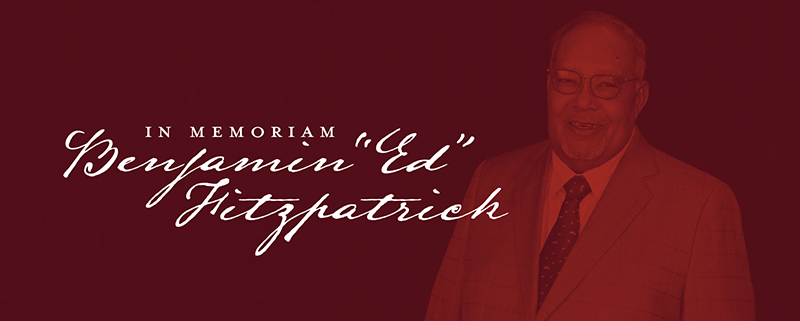 Raised in Oberlin, Ohio, Ed Fitzpatrick graduated from Ohio University in 1964 with a Bachelor of Arts in History. He was a schoolteacher for four years before shifting to a career in the automotive industry in 1968, where his determination and drive would eventually pave the way for minority-owned car dealerships everywhere. 
Beginning as a management trainee, Ed worked his way up at the Chrysler Corporation, holding numerous management positions, including National Minority Dealer Development Manager, before joining Toyota Motor Sales, U.S.A. as a Dealer Placement Administrator. He was promoted to Market Representation Manager for the Los Angeles Region soon after and then worked as the National Dealer Development Manager for Mitsubishi Motors Sales before establishing the Fitzpatrick Dealer Group. 
In 1989, he bought into a Chrysler Plymouth dealership in Renton, Washington, and later opened his Central Valley operations. The Fitzpatrick Dealership Group now consists of Valley Lexus, Valley BMW, and Valley Kia — all in Modesto — and Coliseum Lexus in Oakland. 
In 2006, Fitzpatrick Dealership Group became the largest Black-owned dealership in California. 
Steadfast in his commitment to advancing diversity in the automotive industry, Ed worked tirelessly to promote opportunities for minorities. He served as Chairman of the National Association of Minority Auto Dealers and the California New Car Dealers Association; President of the Chrysler Minority Dealer Association; and was the founding president of the Toyota/Lexus Minority Owners Dealership Association. 
A leader, pioneer, visionary, advocate and entrepreneur, Ed's passion for cars — the faster, the better — was matched only by his passion for people. He proudly supported numerous charitable organizations with his time and financial resources, including the East Oakland Youth Development Center, the Shelter Cove Community Church, the First Tee of Oakland and Modesto, the Modesto Black Men & Women's Association, the Modesto Salvation Army, the Junior Golf Association of Northern California, Relief, Inc. and California State University, Stanislaus. 
"Ed was one of the first donors I spoke with when I arrived at Stan State in July 2016," said President Ellen Junn. "It was on my very first day — he was on my list of phone calls to make to get to know the University's transformational donors. Upon speaking with him that first day, and throughout the time I was privileged to know him, I was moved by his warmth and impressed by his business acumen. Not only did he change the face of his industry, he also changed the face of our University. I am deeply grateful to have the Ed and Bertha Fitzpatrick Arena at Stan State and to have his son, Ryan, continuing in his father's legacy as a member of our Foundation Board." 
Ed served as a member of the California State University, Stanislaus Foundation Board from 2003 to 2014. In September 2018, he was awarded Emeritus status for his service to the Foundation Board at the Honoring the Past, Forging the Future dinner at Stanislaus State. 
"One time, Ed told me, 'If you want the managers in your organization to succeed, you first need to let them fail,'" said John Jacinto, president of the California State University, Stanislaus Foundation Board and president and CEO of Vistech Manufacturing Solutions. "He was confident enough to know that great leaders need to trust others, rather than trying to do everything themselves. Ed was extraordinarily humble, while leading one of the most successful black-owned automotive dealerships in the United States. I am forever grateful for all his advice and most proud that I called him my friend." 
As an enthusiastic sports fan and equally passionate advocate for education, Ed funded numerous scholarships at California State University, Stanislaus, and never missed a chance to cheer on the Warriors, whose arena — the Ed and Bertha Fitzpatrick Arena — was named in his honor in 2009. 
"Every day I feel honored to arrive at my office in the Ed & Bertha Fitzpatrick Arena," said Director of Athletics Terry Donovan. "His name across our building greets every Warrior student-athlete and sports fan. I am grateful his impact as a husband, father, business owner and community leader will be an inspiration for future Warriors." 
In recognition of his vast accomplishments, Ed received numerous honors including the Vision Award (National Association of Minority Auto Dealers), Dealer of the Year (California New Car Dealers Association), Quality Dealer of the Year (Time Magazine), and Small Business of the Year Award (Oakland African-American Chamber of Commerce.) For his lifetime of contributions to the American auto industry, Ed was honored with the David F. Mungenast Sr. Lifetime Achievement Award (American International Automobile Dealers), the Black Enterprise Dealer of the Year Award (Black Enterprise magazine), and the Lifetime Achievement Award (National Association of Minority Automobile Dealers). Ed was also inducted into The HistoryMakers for his contribution to the automobile industry, with his oral history archived in the Library of Congress.
---
In lieu of flowers, the family asks that you thoughtfully consider making a memorial donation to support athletic scholarships at Stanislaus State or to the Building Improvement Fund at New Zion Baptist Church in Wiggins, Mississippi. Donations to Stanislaus State Athletics Scholarships may be made online or mailed to California State University, Stanislaus, Division of University Advancement, One University Circle MSR 300, Turlock, CA 95382. Memorial gifts to New Zion Baptist Church may be made online.