Inclusive Teaching: Strategies for Promoting Equity in the College Classroom
Drs. Kelly Hogan and Viji Sathy
Monday, March 20 & 27
Monday, April 17
10:30 a.m. to 12 p.m.
Join us on Zoom for an in-depth discussion:
March 20, pages 1-106 (Chapters 1-4)
March 27, pages 107-198 (Chapters 5-6)
April 17, pages 199-226 (Chapter 7) and Q&A with the authors
EARN 1 CREDIT: CERTIFICATE IN INCLUSIVE TEACHING (if you attend all three sessions)
Please RSVP by March 9, 2023 to receive a copy of the book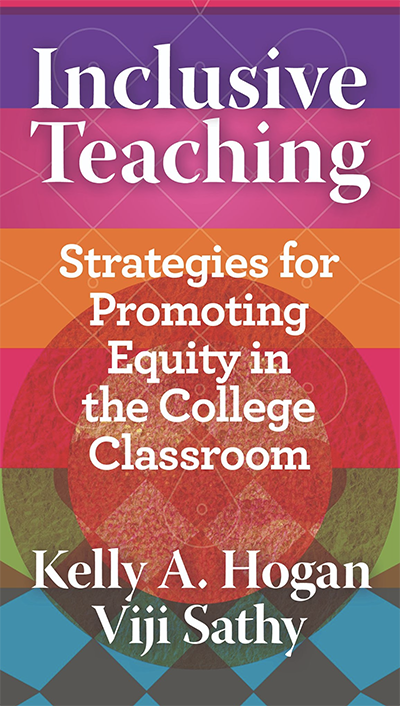 Drs. Kelly Hogan and Viji Sathy provide tips and advice on making all students feel welcome and included. They begin with a framework describing why explicit attention to structure enhances inclusiveness in both course design and interactions with and between students. Inclusive Teaching then provides practical ways to include more voices in a series of contexts: giving instructions for group work and class activities, holding office hours, communicating with students, and more. The authors finish with an opportunity for the reader to reflect on what evidence to include in a teaching dossier that demonstrates inclusive practices.
The work of two highly regarded specialists who have delivered over a hundred workshops on inclusive pedagogy and who frequently contribute to public conversations on the topic, Inclusive Teaching distills state-of-the-art guidance on addressing privilege and implicit bias in the college classroom. It seeks to provide a framework for individuals and communities to ask, Who is being left behind and what can teachers do to add more structure?
---
About the Authors
Kelly Hogan, Ph.D.
The Associate Dean of the Office of Instructional Innovation, a STEM Teaching Professor of Biology, and Director of the University's Quality Enhancement Plan associated with SACSCOC accreditation. She has led institutional reform within STEM to help more students succeed in science courses through high structure, active learning. She emphasizes that evaluating effective teaching is equally important to STEM reform. She has also been recognized by her students through 11 different campus, state and national awards for teaching, mentoring and advising. Hogan's teaching has also impacted a student audience beyond those in her UNC-Chapel Hill classes.
Dr. Viji Sathy
A professor of the Practice in the Department of Psychology and Neuroscience, Associate Dean for Evaluation and Assessment, Director of the Townsend Program for Education Research, and Director of the Academic Leadership Program at the Institute for Arts & Humanities. She is a national expert on inclusive teaching, speaking and writing widely on the topic and co-founder of inclusifiED.com. Her research involves evaluating the impact of innovative teaching techniques and retention in STEM and directs evaluations of educational programs and curricula. She teaches undergraduate quantitative courses as course-based research experiences: statistics, research methodology, and maker courses. She has received numerous teaching awards, including the campus' Student's choice for Best Professor at UNC and recently, The Society for The Teaching of Psychology (APA Division 2) Awardee for Promoting Diversity, Equity, and Inclusion.