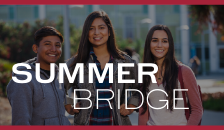 The Summer Bridge Program (SBP) is designed to assist new students in making the transition from high school to university life and is offered by invitation only to selected EOP applicants. Each Summer, all accepted First-Year EOP students will participate in the Summer Bridge Program before they begin their college journey at Stanislaus State University in the Fall. 
What are some of the helpful tools we assist students with each summer?
Orientation to the academic curriculum and university life
Cultural and social exposure and development in a university setting
Personalized student success tools such as financial aid and academic advisement
Networking and community building with other SBP participants, EOP Academic Advisors, and connecting students with EOP Peer Mentors!
The program is offered at no cost to participants.
Online Summer Bridge 2021 dates: July 26-30, 2021
The Summer Bridge Program will be 100% virtual.  There will be mandatory dates that we will meet via zoom to connect and gear up for the Fall term.  To prepare for Summer Bridge 2021, please reserve the following dates and times below to allow participation in the program.
Mandatory Summer Bridge Program synchronous zoom session attendance dates/times:
Monday, July 26, 10:00 am-11:30 am
Tuesday, July 27, 10:00 am-11:30 am
Wednesday, July 28, 10:00 am-11:30 am
Thursday, July 29, 10:00 am-11:30 am
Friday, July 30, 10:0 am-11:30 am
Note: students are responsible for attending the mandatory synchronous zoom sessions on the above dates and times.  Please make sure to make prior arrangements to ensure you are available to attend sessions.
Questions? Contact us!
Email: eopsa@csustan.edu 
Chat with us!