Discover what you can learn and where an English major can take you.
Our program focuses on writing as a way of thinking and analyzing what we encounter in the world. This includes literary work that you read by practitioners across the English-writing world and work that you create yourself as a way of responding to other texts and your own experiences. Whether you take these experiences into the classroom, the boardroom or beyond, your writing skills and your abilities to understand and respond to writing will propel your career and your life.
Interests
Being stretched as a reader, writer, and thinker
Open-minded and willing to forgo conclusions
Comfortable with ambiguity
Appreciate a variety of perspectives
Enjoy reading literature
Appreciates the playfulness of language
Taking on challenges
 Learn
Communication skills that emphasize critical thinking
A broad knowledge of literature
The ability to interpret culturally diverse literary, non-literary, and visual texts
Go!
Writer, reporter or editor
Teacher or researcher
Lawyer
Marketing and public relations
Publishing
Communications specialist
Consulting, librarian
Telecommunications, business and banking
Career Opportunities
Soledad High School
Corvallis High School
Ceres Unified School District
TriTech Software Systems
Freelance Editor
Merced County Human Services Agency
Innov8 Partners
Justin W. Capp Engineering
& Design
 Degrees and Programs
Bachelor of Arts in English with available concentrations in TESOL and Single Subject Matter Preparation
English minor available
Master of Arts in English
Liberal Studies concentration available in Literature & TESOL
The Humanities Program offers courses in art, history, literature, music, philosophy and theatre
---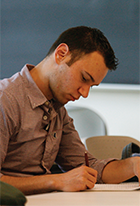 "My writing skills have definitely improved, and I know that will benefit me in the future. Any job, no matter what career field, requires an employee to have strong and coherent writing abilities."
English Student