Professor of Anthropology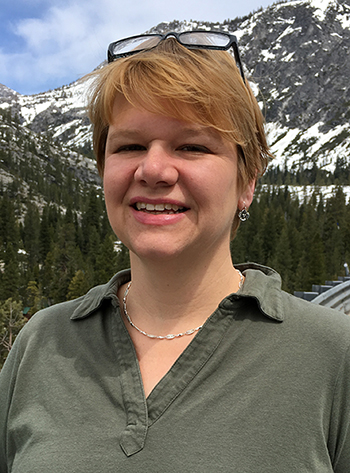 Ellen E. Bell received her B.A. in anthropology from Kenyon College in 1991 and a Ph.D. in anthropology from the University of Pennsylvania in 2007. Dr. Bell co-directed the El Paraíso Region Archaeological Project (PAREP), which investigates administrative strategies in the Classic Maya Kingdom of Copan, Honduras. Her dissertation research focused on ritual deposits within the Early Copan Acropolis, including the Hunal and Margarita tombs, thought to have held the remains of the first king of the Classic period Copan dynasty, K'inich Yax K'uk' Mo', and an important woman, most likely his wife.
Dr. Bell enthusiastically includes undergraduate and graduate students in her research projects and works to conduct all investigations within a framework of community-responsive archaeology. She is also actively involved in the Four Valleys Archive which is building a digital archive of over 30 years of household archaeology in western Honduras accessible on-line. Dr. Bell has used elements of this digital archive in courses taught at Stanislaus State (including ANTH 4850: Crafting Maya Identities) to provide students unable to participate in off-campus research projects the opportunity to work with primary archaeological data.
Additional research interests include: Mesoamerican Archaeology, Material Culture Studies, Political Organization, Archaeology of Gender, Maya Epigraphy and Iconography, Household Archaeology, Anthropology of Religion and Ritual, History of Mesoamerican Archaeology
A faculty member at Stanislaus State since 2007, Dr. Bell is currently Director of the Institute for Archaeological Research, Co-Director of the University Honors Program, and Faculty PI for the Stanislaus State McNair Scholars Program. Her affiliations include The American Anthropological Association and the Society for American Archaeology.
Courses Taught:
| | |
| --- | --- |
| Course | Course Title |
| ANTH 2080 | Introduction to Physical Anthropology |
| ANTH 2090 | Introduction to Archaeology |
| ANTH 3010 | The Great Discoveries |
| ANTH 3090 | Peoples and Cultures of Latin America |
| ANTH 3555 | The Aztecs, Maya, and Their Predecessors |
| ANTH 3560 | On the Inka Road: Survey of Andean Prehistory |
| ANTH 4130 | Urban Subcultures: Chinatown |
| ANTH 4605 | Archaeological Field Methods |
| ANTH 4500 | The Growth of Anthropology |
| ANTH 4960 | Senior Seminar |
| HONS 2010 | Reading Seminar in the Social Sciences |
| HONS 3500 | Information/Research/Analysis |
| HONS 3990 | Capstone Research Proposal |
| HONS 4200 | Senior Colloquium |
| MDIS 1400 | Designing Your Stan State |
| MDIS 3600 | Designing Your Tomorrow |