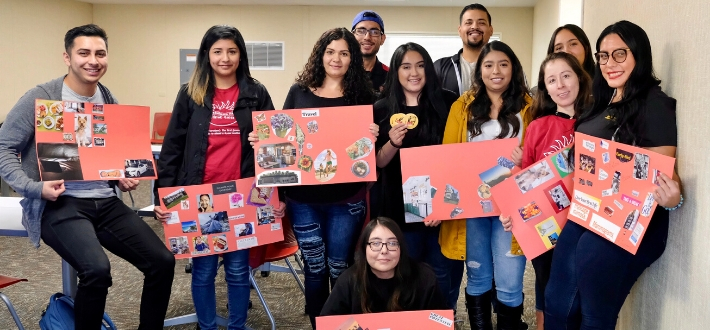 What is First-Gen Friday's (FGF)?
The First-Gen Friday's workshop series, under the Academic Success Center,  is a collaborative effort to promote the visibility of Stanislaus State staff, faculty, and alumni leaders who were themselves first-generation college students. First-gen Fridays will be the first Friday of every month during the academic year. The workshop series will include a variety of topics and activities such as: speakers, social interactions, and networking, etc.
Workshop Series Flyer
Our Purpose
The main purpose of this workshop series is to foster a sense of belonging that can boost the engagement, retention, and success rates among Stanislaus State First-Gen students.  
Note: For our program, a "first-generation college student" is identified as a student whose parent/guardian have not received a four-year U.S. bachelor's degree. 
First-Gen / [Furst-jen] / Adjective
See also: trailblazer, resilient, leader, determined
You are the first in your family to attend a 4-year institution.  Your parents did not graduate from a 4-year institution.  You are still considered first-generation even if your siblings attended and graduated from a 4-year institution.
*Stanislaus State serves large numbers of first-generation college students, according to the CSU Analytics Office 73% of our Fall 2018 students are the first in their families to attend college.
First-Gen Obstacles
All students encounter diverse challenges when adjusting to college life. Stanislaus State is providing a First-Generation* specialized workshop series, First-Gen Fridays, which will be able to teach students the tools needed to overcome any obstacles they will face in college. 
The topics of discussion will focus on first-gen obstacles such as:
Imposter Syndrome

Confidence Building
Social Capital Building
---
Upcoming Events
The Art of Hustling: Using Your Cultural Capital to Fuel Your Lifework - Wokeshop
Friday | March 13, 2020
1-3pm | SSX2
Speaker:
Ivan Ibarra, The Coalition for Diverse Educators
 
What is cultural capital? Why is it important to be hyper-aware of the ways to harness this?  
The Art of Hustling aims to not only provide a space of resistance against traditional forms of navigating professional/higher-ed spaces, but also provides tools and skills needed to harness your cultural capital.
Financial Wellness Budgeting Workshop
Friday | March 6, 2020
1-2pm | SSX2
Speaker:
Landy Gonzalez-Hernandez, Financial Wellness Program
 
While you're in college, you'll need to learn how to manage your finances, plan for changes, and prepare for the unexpected. Budgeting will help you build decision-making skills in order to reach your financial and academic goals.
Study Abroad Workshop
Friday | March 6, 2020
2-3pm | SSX2
Speaker:
Sandra Luna,Office of International Education
 
A global perspective and cross-cultural competence are crucial for success in today's world. This workshop will give an overview of the application process, financial aid, and scholarship opportunities.
Workshop Series List of Events
---
---
FIRST, BUT NOT ALONE.
---
Co-Sponsored by:
High Impact Practices (HIPs) Co-Curricular Mini Grant
University Extended Education
University Auxiliary & Business Services
Student Affairs
Diversity Center