---
Greetings from our new Male Success Initiative (MSI) 
Program Coordinator!
Hello Warriors!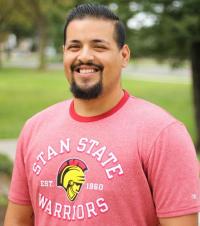 As we gear up for the start of the 2020-2021 academic year, we at the Warrior Cross Cultural Center have been hard at work to continue expanding our efforts in our fight for social justice. This summer we have lived and experienced a tumultuous time with the Covid-19 pandemic and social and political movements in search of a more equitable world. Our vision is and will always be, to respond by challenging systems of oppression through, empathy, continuous self-reflection, and healing. 
Fall 2020 will bring exciting opportunities to continue this work with the launch of the Male Success Initiative (MSI). MSI is being developed to address systemic inequities our men of color face on campus. Our work will revolve around dismantling toxic heteronormative traits that are perpetuated and normalized by the dominant male culture. We will empower our students to excel academically and prepare for graduation and career success. We have witnessed enough intolerance amongst gendered identities, it's time to get to work and advocate for social change.
The Male Success Initiative is committed to creating a lasting impact for our participants and the university community. We invite you to take part of this initiative, it is a great way to get involved on campus. If you are interested and would like more information, please contact the Male Success Initiative via phone at (209) 667-3998 or email at msinitiative@csustan.edu.  
In Community, 
Miguel Jimenez, M.A.
Program Coordinator 
Male Success Initiative 
---
Mission
The Male Success Initiative (MSI) at Stanislaus State will foster student growth and academic success by nurturing spaces where men of color and self-identified men feel safe to be purposefully vulnerable, live in their authentic truths, and be empowered to be agents of social change. MSI will inspire transformative learning through intentional programs, meaningful dialogues, & community building that will advocate for the dismantling of toxic heteronormative traits. The core of our work will revolve around reconstructing and healing from negative ideologies by promoting self-reflection, critical thinking, and empathy.
The Male Success Initiative will proactively equip students with resources and skills to thrive in their educational journey. We aim to engage our participants by organizing a series of programs and services dedicated to addressing systemic inequities, academic achievement gaps, and persistence to graduation. 
Vision
In collaboration with campus and community stakeholders, MSI is committed to the academic and career success of traditionally marginalized men. Building upon the four pillars of success: Mentoring, Achievement, Leadership Development, & Empowerment, MSI provides opportunities that will foster growth and holistic wellbeing.
---
Pillars of Success
Mentoring
We establish a strong network of individuals to guide and support each other.
Achievement
We aim to increase graduation and retention rates through tailored academic success services and programming.
Leadership Development
We provide transformative leadership opportunities critical to student development and student success.
Empowerment 
We will holistically serve our men on campus to heal from toxic gender roles and advance the work of marginalized communities.
---
How to Participate
For more information on how to participate, please complete the MSI Interest Form or contact the Male Success Initiative via phone at (209) 667-3998 or email at msinitiative@csustan.edu. 
---
Events 
Spring 2021 Calendar Coming Soon!
---
Follow us on Instagram to receive updates!
---
Our Response to COVID-19
Male Success Initiative in Remote Operations through Summer and Fall 2020
The Male Success Initiative will be operating remotely through the Summer and Fall 2020 terms. We will be available to answer your questions via email and telephone. We appreciate your continued patience and understanding during these difficult times. Please visit the campus COVID-19 webpage for the latest information on safety and campus operations.
---
Updated: October 10, 2020. The WCCC is a unit of the Division of Student Affairs.