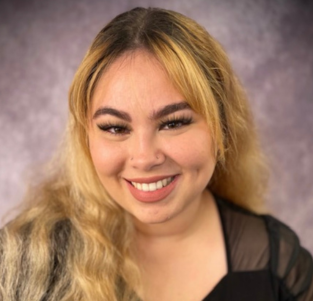 Diana Perez says she wants to give back and give hope to young people in foster care and other youths by becoming a child therapist in Stanislaus County. 
"I have experienced what some of them may have gone through," said Perez, a former foster youth who is graduating with a bachelor's degree in psychology and plans to pursue a master's degree. "I feel as if having someone who understands them would make them feel more comfortable and confident that they are understood." 
Perez came to Stanislaus State in fall 2019 as a part of the Promise Scholars program, which supports foster youth working toward a college degree. She was intent on earning her bachelor's degree in four years, and she didn't let anything prevent her from reaching her goal, according to Libby Pata, program lead of Promise Scholars. 
"COVID crippled the world in spring 2020, and yet Diana persisted. She studied, asked questions, dug in and achieved," Pata said. "She often worked two jobs on top of carrying 15 units and stayed true to her goal of finishing in four years. Even when faced with challenges, Diana shines." 
A first-generation college student who hails from West Covina, Perez says she chose Stanislaus State because it was affordable, and she was ready for a change of scenery. 
"I wanted to go somewhere away from Los Angeles and explore elsewhere," she explained. 
She is graduating with a 3.2 GPA and has been juggling a job at Starbucks and a job as a student assistant for Promise Scholars while interning at Jessica's House, which provides grief support to children, teens and young adults who have lost loved ones. 
She finds it's important to do something every day to spend time with people she knows and meet new people, even if it creates time-management challenges. 
"It's hard balancing my jobs, internship and personal life, but it can be done. Just believe in your potential," Perez said, adding she believes in always trying her best to fulfill her potential, but is also careful to pace herself and "not overdo it." 
Her goal is to become licensed as a marriage and family therapist so she can realize her dream of helping young people. She may even pursue a doctorate in psychology someday. 
In Pata's estimation, Perez is likely to achieve anything she puts her mind to. 
"Diana is a Warrior to her core," Pata said. "She is determined, intelligent and compassionate. She thrived as a Warrior." 
Perez said she also learned about the power of tenacity and self-care. 
"Never give up and always save time for yourself," she said. "Always put yourself first, regardless of how hectic life becomes or how many obstacles there may be." 
#StanGrad File
Degree/Credential
Bachelor of Arts in Psychology 
What memories stand out most from your time at Stanislaus State?
"I have so many amazing memories here at Stan State. A few include meeting some of my closest friends! We had classes together and would always get food after class and just hang out. We were always full of laughter. It was amazing. Another memory that stands out is my Freshman Convocation and when I watched my first college volleyball and basketball games with my friends. I thought it was so intense and fun to watch. Those volleyball girls did such an amazing job! My memories here at Stan State will be cherished forever." 
Which faculty or staff member had the greatest impact on you, and why?
"I can't just choose one specific person. I have been very fortunate to have such amazing professors and advisors throughout my four years here, and I thank them all from the bottom of my heart. But some staff and faculty members that had the greater impact on me were:  
Libby Pata, the best advisor ever! I was lost as a freshman, as many were at one point, and she was there with me every step of the way. She has seen me grow into the individual that I am now and has helped me seek opportunities. She is always there for her students. Bonus point: her goofiness is what makes me smile!  
My first-year composition and grant and proposal writing professor, Maria Camarena, also had a huge impact on me. Not only was she caring and understanding, but she also saw potential in my writing and tried convincing me to major in English and apply for the writing center. I took her word for it and decided to minor in English. Fun fact: her class is where I met my two best friends, plus she makes really amazing cookies!
I had Deborah Forester for Intro to Psychological Methods and for an Experimental Research seminar, and she is amazing and hilarious. She always makes class meetings so fun, and she truly does care for her students." 
What advice would you give to current and future students?
"Make connections with your professors and advisors. Go to office hours or speak to them after class. Never be afraid to ask for help if you are struggling. Make sure to take advantage of school resources because they are there to support you. Get involved in school clubs/organizations, find what community suits you and just be yourself. Remember that you're not alone on this journey." 
---
Note: This article is part of the StanGrad series highlighting Stanislaus State students who are part of the Class of 2023. Read more StanGrad profiles.