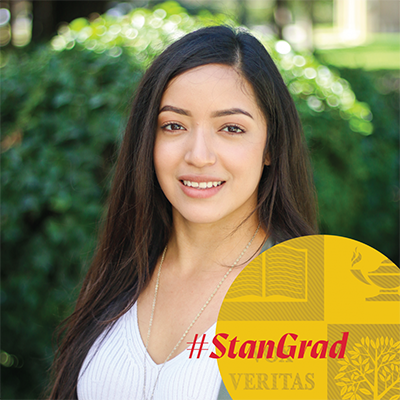 When she arrived in the United States as a 13-year-old immigrant from Mexico, Juana Nieto Vazquez didn't speak a word of English. Her father, who had paved the way for her and her mother to come to the United States, died on the day of their interview at the border.
Heartbroken, they pondered returning to their home, but they honored his dream and moved to Atwater, where they worked side-by-side in agriculture fields to support themselves.
Nieto Vazquez pursued her education, learned English and is the first member of her family to earn a college degree.
Grateful for the support she has received along the way, Nieto Vazquez looks to turn her Stanislaus State Bachelor of Arts in Psychology into a career helping others. Graduate school is her next goal, as a member of the University Honors Programs and a McNair Scholar.
"I hope to help students like me to reach their academic goals and create awareness of the negative effects that stress contributes to our physical and mental health," Nieto Vazquez said.
Studying psychology helped Nieto Vazquez understand her own emotional turmoil as she pursued higher education.
"During the summers, I worked as a seasonal field worker to provide for my education expenses," she said. "I experienced stress, doubt and anxiety during the toughest times, but what kept me on track was an optimistic mindset."
If she had doubts, those who taught and mentored her saw potential.
Associate Professor of Psychology Kelly Cotter oversaw Nieto Vazquez's McNair Scholars research project on stress among first-generation college students. She also worked as a teaching assistant and is currently a research assistant with the food and housing insecurities project led by Stan State faculty members Jane Rousseau, John Garcia and Kelvin Jasek-Rysdahl.
"Juana is a financially disadvantaged, first-generation college student, but she did not let that stop her from nourishing her love of learning, research and service to others," said Araceli Garcia, director of the McNair Scholars Program. "She mentors and provides support to our current McNair Scholars in her role of Lead McNair Scholars Peer Mentor."
Nieto Vazquez hopes that is just the beginning.
"One of my ultimate career goals is to provide resources, services and evidence-based intervention to help others enhance their mental health, especially those students who lack resources and come from underserved or underrepresented communities."
#StanGrad File
Degree/Credential
Bachelor of Arts in Psychology with a concentration in experimental psychology
What memories stand out most from your time at Stanislaus State?
"My fondest memories are the times spent at the Honors building and the Psychology Department where I made a lot of connections. Being part of the Honors and McNair Scholars programs taught me critical skills to stand out as a first-generation college student. They introduced me to students with similar goals and inspired me to be part of extracurricular activities."
Which faculty or staff member had the greatest impact on you, and why?
"There are several faculty and staff members that helped me become the person I am and hope to become. Dr. Shrinidhi Subramaniam and Dr. William Potter introduced me to my first roles as a teaching assistant in my upper-division psychology courses. Araceli Garcia, the McNair Scholars program director, and Becky Temple provided immense support and resources. Dr. Cotter, my faculty mentor, provided guidance and insightful feedback throughout my McNair research project. Finally, Dr. John Garcia, Dr. Jane Rousseau and Dr. Kelvin Jasek-Rysdahl allowed me to be a part of the Public Policy Center Participatory Action Research."
What advice would you give to current and future students?
"Be intentional and proactive. Take good care of yourself and enjoy the journey. Believe in yourself. Visualize yourself and follow through with your journey. Network with professors and classmates. Engage in academic and extracurricular activities. Celebrate your accomplishments — you deserve it!"
---
Note: This article is part of the StanGrad series highlighting Stanislaus State students who are part of the Class of 2021. Read more StanGrad profiles.