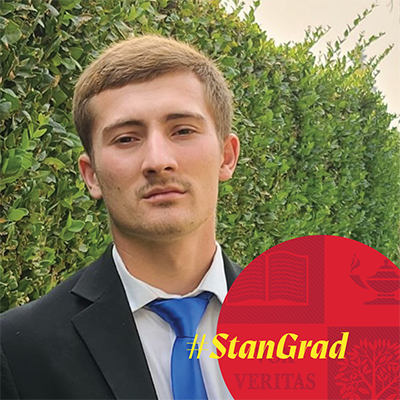 John Molthen had no real concept of college when he began his Stanislaus State journey.
His parents, who'd met working at Gallo Glass, encouraged Molthen and his brother to get a college education, but they had no experience to share.
"I have had to figure this college thing out pretty much by myself," the first-generation student said. "I also had to work 16 to 35 hours a week to pay my bills, as well as pay off my student loans."
He managed to balance those responsibilities, and whatever he may have lacked in college experience, he made up for with his classroom capabilities.
Molthen graduates with a Bachelor of Science in Chemistry, and he has plenty to look back on with pride and to look forward to.
While at Stan State, Molthen managed to juggle his job with schoolwork, which earned him a 3.76 grade-point average. He participated as a student researcher on the project "Computational Docking of Potential Drug Inhibitors to the SARS-CoV-2 Main Protease" with Biochemistry Professor Koni Stone and served the community as a Civic Action Fellow.
Molthen, a member of the University Honors Program and a McNair Scholar, has learned about more than his subject matter.
"I have learned that I can do anything that I put my mind to," said Molthen, who arrived at Stan State thinking he wanted to be a chiropractor, but quickly changed his mind after taking organic chemistry.
He'd enjoyed chemistry at Thomas Downey High School in Modesto but learning about organic chemistry completely changed his life's trajectory.
He devoted himself to his new path, and his dedication to chemistry has resulted in his being accepted to Johns Hopkins University's Master of Science in Biochemistry and Molecular Biology program.  
"I plan to go into cancer research," Molthen said. "I want to join the battle to fight cancer, and hopefully, end this fight."
#StanGrad File
Degree/Credential
Bachelor of Science in Chemistry
What memories stand out most from your time at Stanislaus State?
"The best memories that I had at Stanislaus State were at social events, specifically Warrior Day my freshman and sophomore years. These events were tons of fun, and I met so many people in the Stanislaus State community."
Which faculty or staff member had the greatest impact on you, and why?
"Dr. Koni Stone and Dr. Gonul Schara had a great impact on me at Stanislaus State. Dr. Stone helped me enroll at Stanislaus State after I had been dropped from my classes. Later, Dr. Stone became my research advisor and led me through two different projects over the past two years. Dr. Schara also helped me along my journey. I took her biochemistry class and she inspired me to work in the field."
What advice would you give to current and future students?
"Work hard and stay focused on your goals and you will achieve them."
---
Note: This article is part of the StanGrad series highlighting Stanislaus State students who are part of the Class of 2021. Read more StanGrad profiles.