Stan State Professor Shrinidhi Subramaniam Leads Students in Pilot Research Study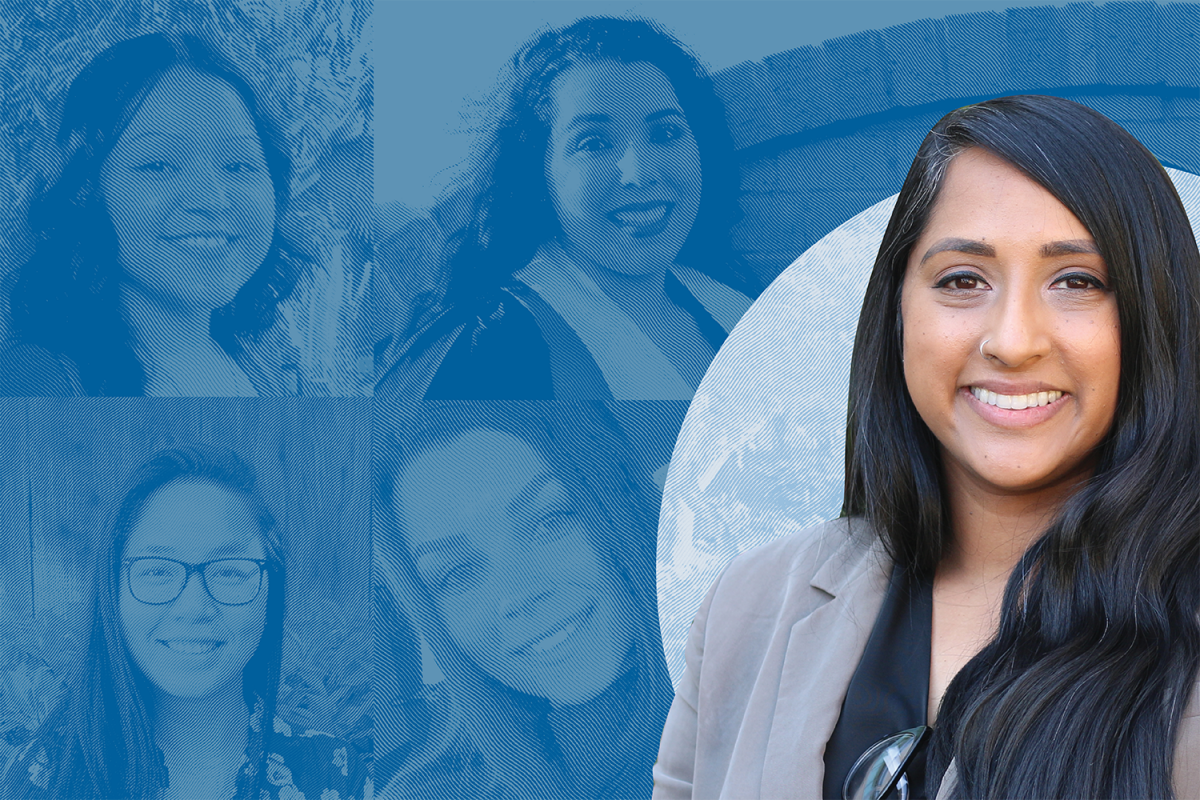 Pictured counterclockwise: Odalis Garcia, Breanna Anderson, Shrinidhi Subramaniam, Kayln Krummen-Ganz and Kieu Hanh Tran.
Having seen the effectiveness of incentive-based treatment for addiction during a two-year post-doctoral fellowship at Johns Hopkins University, Assistant Professor of Psychology Shrinidhi Subramaniam is using that formula for a local study with Stanislaus State students contributing to the research.
The team will offer small financial incentives to clients who have completed residential treatment at Stanislaus Recovery Center in Ceres and are transitioning to outpatient services.
The research team seeks to enlist 30 patients for the pilot study half of whom will receive $12 for every outpatient session attended while the other half simply has access to the same treatment. The clients will be interviewed monthly for three months, and then again after six months to test the efficacy of incentives. All participants will receive $20 a month for participating in the study and agreeing to interviews.
The research is funded by a Research, Scholarships and Creative Activities (RSCA) Grant and incentives will be paid through a credit card rather than cash to prevent money being spent on illegal drugs.
"The main thing we're going to look at is their attendance in outpatient treatment," Subramaniam said. "We expect participants in the incentive group will attend more outpatient treatment sessions than people in the control group."
The study is inspired by a Johns Hopkins program that offers the chronically unemployed or unhoused populations addiction treatment in conjunction with education and job training.
"Eventually I want to build one of those, myself, but I'm starting with the building blocks," Subramaniam said.  
She began learning about local substance abuse treatment programs and facilities when she arrived at Stan State in 2018. Subramaniam developed a relationship with staff at Stanislaus Recovery Center in Ceres and gained permission to approach its clients for her pilot study.
Conducting research is a new venture for several of her students.
"I haven't run a study or done a research project," said Kieu Hanh Trana student in Stan State's Mater of Science in Psychology, Behavior Analysis and Marriage and Family Therapy program. "I'm hoping this will give me more understanding of how research is done, but also the importance of applying it."
Hanh Tran, a Fresno State alumna, and her fellow students are building surveys and creating a database. She will be among those interviewing clients.  "Shrinidhi said that most people go into the substance-abuse treatment field because they have a personal experience with it," Hanh Tran said. "I had friends in college go through a horrible time with substance abuse that ended their lives."
Odalis Garcia, also a graduate student who hopes to be a marriage and family therapist, shares the project coordinator role with Hanh Tran, and like her classmate, had no previous research experience.
"I like that I'm getting in at the beginning and will see it through until the end when we have all the data," Garcia said.
Other research-assistant opportunities were available during her time as an undergraduate and graduate student at Stan State, but this one seemed tailor made for her interests.
"Since I'm in the therapist career program, I thought it would be good to interact with clients," Garcia said. "They're a different population, but the most important thing we've been learning in this counseling program is to build rapport and really connect with clients, because that will get them to open up and trust you, and that will inspire change in them. I think that will be really useful."
Breanna Anderson, who's pursuing a Master of Arts in Psychology Behavior Analysis, has worked on other research projects as both an undergraduate and graduate student at Stan State.
"The only area of human analysis I haven't dived into is incentives and substance abuse," Anderson said. "So much of my experience is about the autism spectrum disorder, but I want to branch out more. That's why I got involved with this."
Kayln Krummen-Ganz, the only undergraduate on the team, was inspired after taking Subramaniam's course on addiction and treatment.
"I didn't know what to expect," Krummen-Ganz said. "I had the sense I'd be helping to prepare for it. I didn't know I'd be an active researcher. It's exceeded my expectations. I'm super eager to learn. I didn't have any research experience, and I'm ready to take in everything they tell me."
Subramaniam shared some of her previous work during a discussion on addiction during COVID-19 at the launch of Stan State's Next UP: Forward Thinking @ Stan State initiative. An upcoming Next UP presentation is a Zoom panel discussion titled, "Hearts and Hands in Soil: Instilling a Sense of Place," scheduled for 2 p.m., Tuesday, May 11.  
Panelists include Stan State Sustainability Coordinator Wendy Olmstead, Assistant Professor of Ethnic Studies Cueponcaxochitl Moreno Sandoval, Basic Needs Care Manager Jennifer Sturtevant and Stan State alumnus and high school teacher Jeff Rivero.