The University Will Confer the Father and Son with the CSU's and Stanislaus State's Highest Honor, Honorary Doctorate of Humane Letters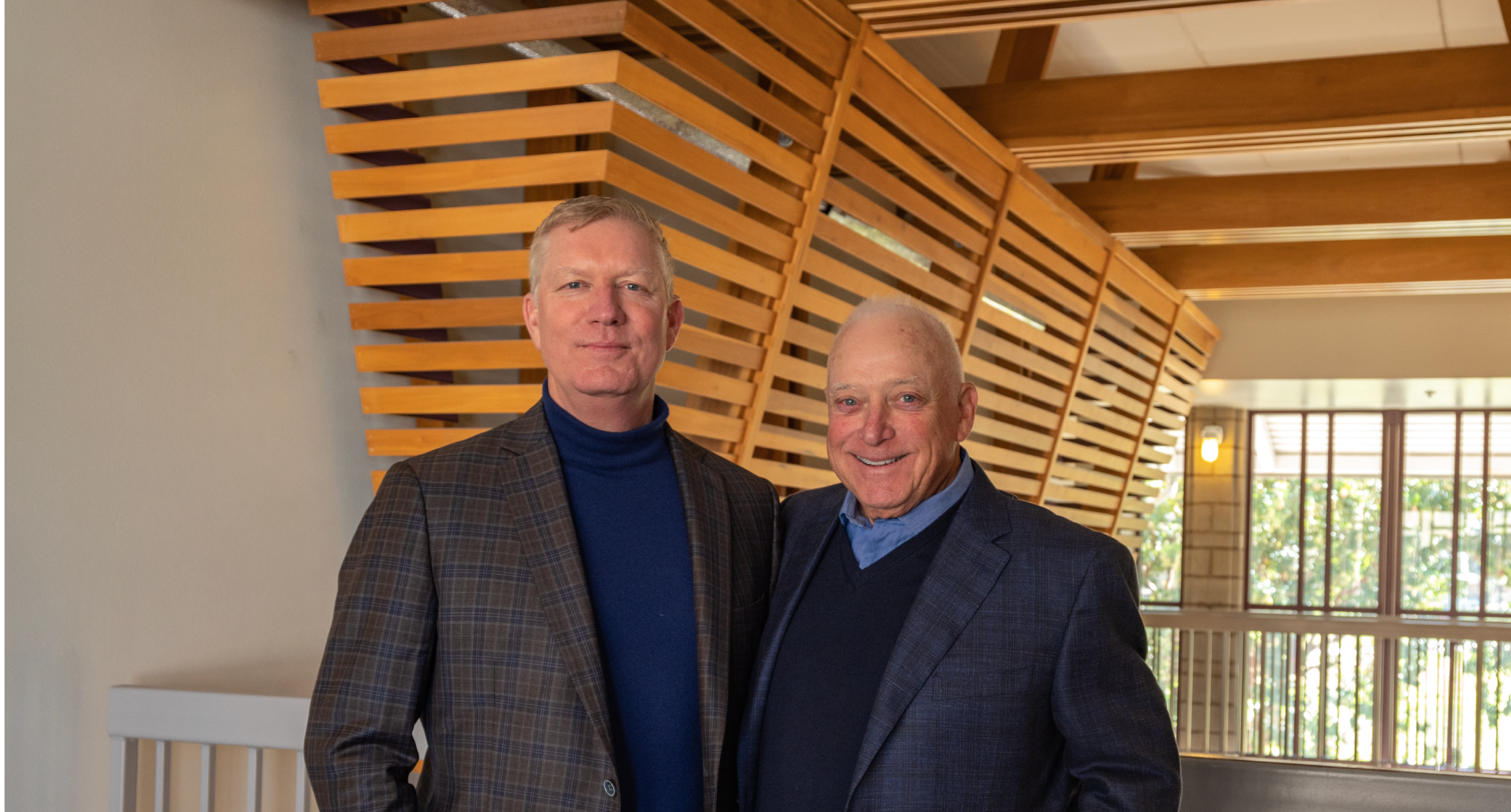 Father and son Norm and Evan Porges have earned many accolades over the years for being pioneering entrepreneurs, engaged community leaders and generous philanthropists. For decades, they have worked to uplift the Central Valley and its inhabitants by championing the transformative power of higher education, acts of public service and giving back to the community. 
On Thursday, May 25, the duo will add another commendation to the list: honorary doctorate.  
The California State University (CSU) and Stanislaus State will confer their highest honor, the Honorary Doctorate of Humane Letters, to the Porgeses during the University's Commencement ceremony for the College of Business Administration and the College of Education, Kinesiology and Social Work. The ceremony begins at 4 p.m. and will be livestreamed. 
The Honorary Doctorate of Humane Letters is the highest honor conferred by the University and the CSU Board of Trustees. To be considered, honorees must have achieved excellence in areas that embody the CSU's ideals and objectives, performed meritorious and outstanding service or their life's achievements serve as an example of the CSU's aspirations. 
"Stanislaus State is honored to bestow this distinguished achievement on Norm and Evan Porges," said President Ellen Junn. "Not only have they made their mark as innovative entrepreneurs, but they are also exemplary community leaders who care deeply about the social and economic well-being of the Central Valley. 
"Norm and Evan believe passionately in the value of higher education and its transformative power to enhance lives, communities and society, and they have served as ardent supporters of the University and our students. This honorary doctorate is a testament to their commitment, advocacy and support."  
The Porgeses' connection to Stanislaus State dates to the 1990s, when Norm Porges partnered with Stanislaus State's College of Business Administration to establish the Champions of the American Dream award and event. The program recognizes individuals in the Central Valley who have distinguished themselves as entrepreneurs and have also made exceptional contributions to the community.  
The duo also felt strongly that local businesses should contribute to improving the communities they serve. In 2021, Stanislaus State received a $250,000 gift from the Porges Family Foundation to establish the Warrior Entrepreneurship and Innovation Initiative, a multifaceted program designed to provide inspiration, mentorship and financial support to emerging entrepreneurs who strive to turn their ideas and concepts into new business ventures that can help grow the Central Valley's economy. 
Norm Porges said he was "blown away" upon hearing the news of the honor, and that he and Evan will make CSU history as the first father and son to be jointly conferred with honorary doctorates. 
"As one who has been privileged to receive several recognitions, this one is the epitome of them all," he said. "I value education dearly, so this recognition validates what I believe in so strongly. The fact that I will be sharing the podium with my partner and son Evan makes this great honor even more so." 
"Simply stated, we are overwhelmed," Evan Porges added. "One doesn't expect to receive recognition for doing work they believe is expected of them. But if through this recognition we can inspire others to increase their corporate citizenship, then we are beyond thrilled to have been chosen. 
"To learn that we are the first father and son honorees is the ultimate compliment to our partnership in both business and community service," Evan Porges said.   
Building Business, Uplifting the Valley 
The Porgeses' journey as business owners, community leaders and advocates in the Central Valley began in 1991. Norm Porges aimed to change how people thought about washing their cars and founded Prime Shine Car Wash in Modesto. That same year, after Evan graduated from Arizona State University, he joined his father's budding company. 
Over the years, they grew the business into a successful chain, Prime Shine, Inc., which became California's largest privately owned car wash operator with 20 car washes in 12 Central Valley cities. The company went on to be ranked among the nation's top 20 largest privately held car wash companies.  
In addition to wanting to establish a thriving business, Norm and Evan also wanted to help others develop their potential and leadership skills. In 2013, they launched Prime Shine University, a training and development program designed to help their employees become engaged community members and leaders. Four years later, the company received a Best Places to Work in the Central Valley designation. 
"Helping individuals achieve their goals, seeing them being challenged, mentoring them and helping them grow and become who they want to be, there's nothing better than that," Norm said.  
Their business model, employment practices and commitment to public service earned them numerous awards over the years including: the Western Carwash Association Community Service Award; the Sam Walton Business Leadership Award; the Modesto Chamber of Commerce Small Business of the Year; Gov. Pete Wilson's Community Contribution Award and the Stanislaus Partners in Education-Peter Johansen Award. Prime Shine also became a leader in environmentally sustainable practices, earning the company recognition by the International Carwash Association. 
In 2018, after 28 years successful years in business, the Porgeses sold the company to Mister Car Wash, the nation's largest car wash operator. But their legacy of support and involvement continues. In addition to operating their foundation, they serve a plethora of boards and organizations. 
Norm and Evan are excited to address members of Stanislaus State's Class of 2023 during the University's Commencement ceremonies, when they will be hooded and conferred by President Junn on behalf of the California State University and the CSU Board of Trustees. Both recipients offered some preliminary words of wisdom. 
"When it's all said and done, your circle of friends, both personally and professionally, is what means the most," Norm said. "Surround yourself with smart people and be willing to accept advice. And, learn to deal with failure." 
Evan advises graduates to work equally hard on both their professional and personal lives. 
"Personal and professional fulfillment are intertwined and co-exist," he said.  "Your best work and most prolific times in life will be when you are equally balanced at both home and work.   
"Money and stature are not the measurement of success. Satisfaction comes when you are sure that you have done everything in your capacity to achieve the outcome you expect, professionally and personally."