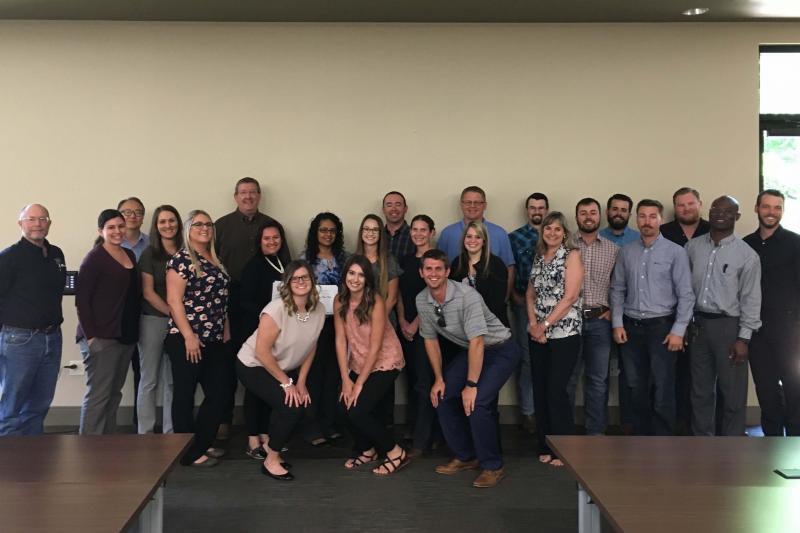 Lucas Avila had shipped cattle. He knew first-hand the dust and heat, the lowing of protesting cows and how to get reluctant livestock moving forward. Running the business end, however, was a very different animal.
"I didn't know how to manage a company. I did not understand the finances," said Avila, a senior majoring in agriculture. An agribusiness class this spring helped him over that fence, leading him through creation of a viable calf transport business plan.
The course, Agribusiness Entrepreneurship, whose students, mentors and faculty are shown here, sets up an ag-centered version of Shark Tank. Students must identify an existing need and create a business to fill it using market research, financial analysis and creativity. They are required to develop a functional business model and a Plan B, just in case. 
With the support of Yosemite Farm Credit and American AgCredit, students work with mentors who are loan officers and credit analysts throughout the process and compete for cash prizes ($3,000, $1,500 and $500 for 1st, 2nd and 3rd place) in a competition at semester's end. The budding entrepreneurs must pitch their plan in written form, with a video advertisement and an oral presentation. 
Picking an industry where he already had experience helped, Avila said. "It's a lot easier to present when you know all the details. It's a lot easier to answer questions." 
Starting his own cattle transport business might not be in the cards, he added, but going through the business planning process gave him confidence, particularly in public speaking.
A consulting business for farmers who need financing was Katherine Fraser's agribusiness focus when she took the spring semester capstone course in 2017. The recent grad hopes to work in ag banking and lending, and the in-depth analysis gave her deeper knowledge and networking opportunities.
"I learned what it takes to start a business. Like any industry, it's all about who you know and that's the hardest part for a student," Fraser said. Having a mentor proved invaluable, she said.
Fraser's business plan came in second place in the 2017 class competition. Other students have gone on to launch their businesses, said Oluwarotimi Odeh, professor and Rolland Starn Endowed Chair of Agriculture. An aquaponics business in the Bay Area got its start in the Agribusiness Entrepreneurship course 
Learning to weigh a balance sheet, forecast market trends, track cash flow and think through a production process has value beyond academia, Odeh noted. "We use the course to sharpen our students' writing proficiency and integrate all the skills they have learned in many of the courses in the discipline to enable them to solve problems in the real world." 
The agriculture major also offers students hands-on experience through its StanFresh Community Supported Agriculture program, sustainable community garden, sponsored agriculture program, faculty-supervised research and internships. 
The ag entrepreneurship connections to local industry fall in line with the University's Strategic Plan goals of forging local bonds, pursuing innovation and transformative learning experiences. But for Avila, its benefits boiled down to boots on the ground know-how he can plow into any field — whether or not his career is in cattle.