Stanislaus County Superior Court Judges Share Unique Views, Lessons of Legal World
On his first day of the Court Observer Program (Criminal Justice 4945), Stanislaus State senior Alec Van Eenennaam diligently typed 19 pages of notes into his laptop as he watched Judge Kellee Westbrook work through a Stanislaus County Superior Court felony calendar. 
"I felt like I was in an amusement park," Van Eenennaam said. "This thing you've been learning about for years, you're actually watching. You're amongst it, and for the first time you're 10 feet from a person in an orange jail jumpsuit, 10 feet from a judge and right next to a lawyer, so it's as criminal as it can get." 
Those are the reasons Criminal Justice Associate Professor Blake Wilson worked to make the program part of the Stanislaus State curriculum.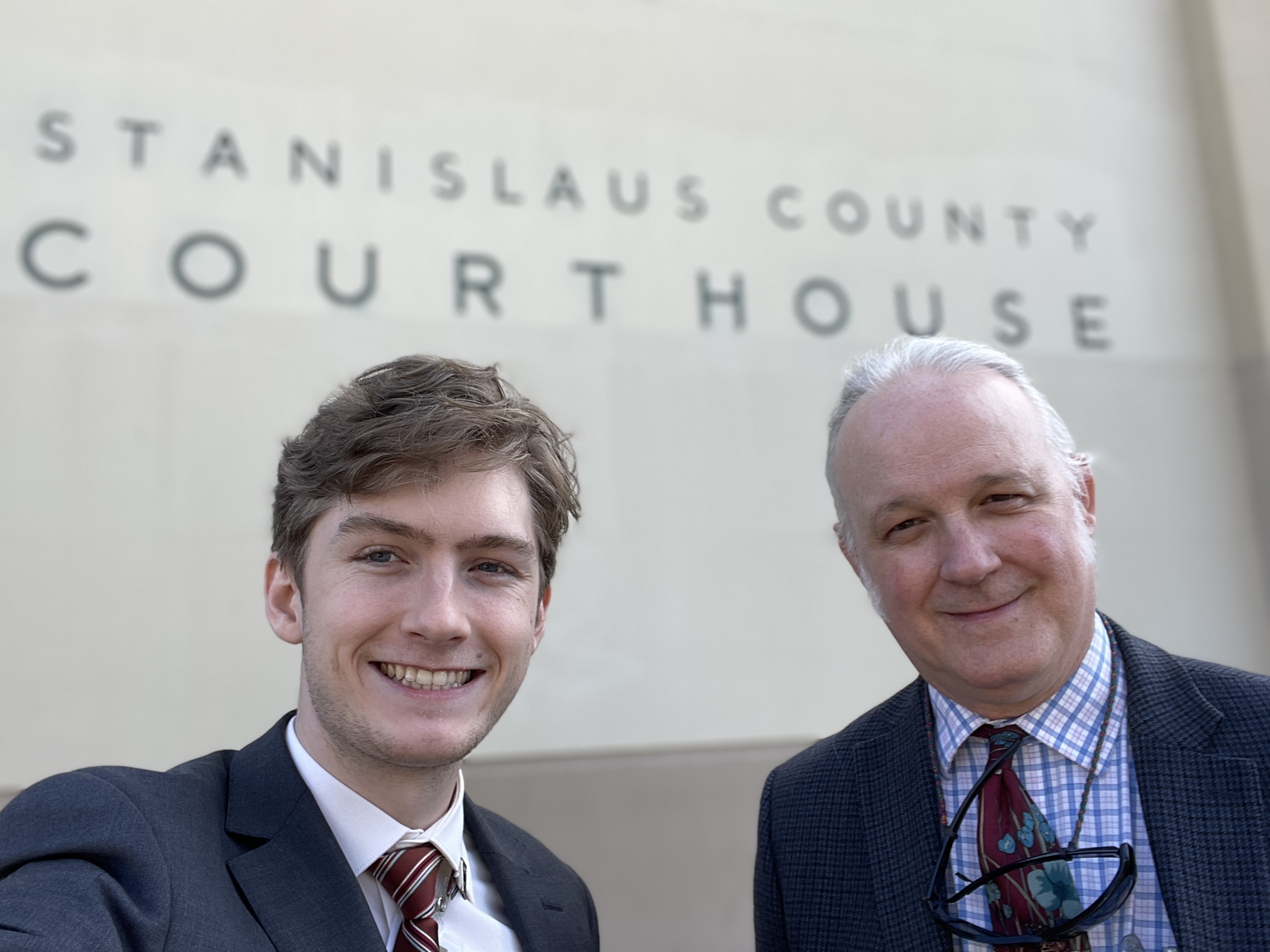 "Legal students have internships, but I really wanted our legal students to get into court and see what was happening," said Wilson, who was a trial attorney for more than 15 years before becoming an educator. "I want them to meet some of our judicial officers and figure out whether or not these are careers they want to pursue." 
Wilson, who was involved in developing Stan State's Pre-Law minor, discovered similar programs at other California State University campuses, and with help from those faculty members, created the class. His idea for students to meet with and observe judges was embraced by members of the Stanislaus County Superior Court, spearheaded by Judge Sonny Sandhu, who had been a guest speaker in his classes. 
The court observer program's initial launch in spring 2020 was derailed by COVID-19 but returned this semester with 11 students. 
"This is a lot of fun for all of us," presiding Judge Robert Westbrook told the students in their introductory meeting. "I'm always interested in meeting young people and introducing them to what we do. For me, education is the most important element of a free and democratic society. 
"Each of us has taken an oath to protect and defend the Constitution of the United States and the State of California against all enemies, foreign and domestic. Let's see what that means on a day-to-day basis, the decisions and choices we have to make. I look at this as part of my obligation to support and defend the U.S. Constitution with outreach and education." 
Van Eenennaam's enthusiasm for the educational opportunity didn't waver on his second visit to court, but he stopped typing to spend more time watching and listening as Judge Ruben Villalobos worked a misdemeanor calendar. 
"Judge Villabos was really involved with me," Van Eenennaam said. "While he was on the bench, he told an attorney, 'Show Alec that plea agreement form before I issue a ruling.' That same lawyer came up to me two or three more times and showed me a document he was about to use in a decision. He actually sat next to me in the jury box, and I could ask him what different codes were or why a lawyer had two phones. He told me one was for clients, and one was personal. It's a standard thing." 
Additionally, when attorneys in one case went into chambers, the judge invited Van Eenennaam to join them, understanding the conversation was confidential. 
"It was really red-carpet treatment," he said. 
The students' observation experiences in what Sandhu called an "unconventional" college program run smoothly and are informative because of judges volunteering their time and the preliminary work done by court staff, Court Executive Officer Hugh Swift, Stanislaus County Sheriff's Department personnel and Wilson. 
Van Eenennaam, who came to Stan State from Davis High School, participated in moot court, done virtually. Now, in his final semester, he is experiencing real court in person from a most unique perspective.