Annual Black History Month Program Returns as In-Person Event With Unique Focus
As it returns to an in-person event for the first time since 2020, Stanislaus State's Fifth Black Power Matters, scheduled for 6 p.m. Feb. 22, in MSR 130, will have a decidedly different tone from years past.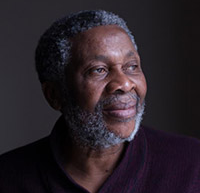 "Radical Reclamation of Black Joy and Liberation" is the theme and renowned scholar, author and peace activist Horace Campbell, professor of African American studies and political science at Syracuse University, is ready to take on that topic. 
"Black Joy is a most appropriate topic," Campbell said. "I didn't think I was the most appropriate person. The people who are most theorizing joys are writing very good books." 
He points to Terra Hunter's "To Joy My Freedom," the title taken from the subjects — Black washerwomen in post-Civil War Atlanta — who couldn't pronounce "enjoy." They organized their community and helped create the Atlanta of today. 
He also cites the works of Zora Neale Hurson, whose seminal book, "Their Eyes Were Watching God," was published during the Great Depression and lifted the spirits of Blacks, whites and others. 
"Those two contexts, the Civil War and the Depression, set up beautifully the conditions for what we will be talking about, the Radical Reclamation of Black Joy," Campbell said. "Reclamation of Joy is most manifested in music, love and happiness." 
The inspirations for his keynote address are Marvin Gaye, the anti-war musician known for "What's Going On," Aretha Franklin's "Respect" and the words of Martin Luther King Jr. that warn of "spiritual death if you do not deal with the conditions of exploitation, racism and the destruction of the planet." 
Campbell chooses music, the universal language that dates to the beginning of time, and while his touchpoints date to the 1960 Civil Rights era, they are a powerful commentary on creating joy today. 
He is steeped in greater knowledge, of course, and shares that through teaching, writing and activism at home and across the African continent. 
"It's important to understand the intellectual basis of African American cultural practices and beliefs in order to truly appreciate their significance," Campbell said. "Sheikh Anta Diop's work, for example, provides a framework for understanding the interconnectedness of humans, nature and spirit, and this perspective is reflected in the joy and positivity that can be found in Black/African American music and cultural practices. There have been loud voices speaking to the struggles of the Black community and finding joy in the face of adversity. From Lauryn Hill, Tupac Shakur and Bob Marley to the young Black poet laureate Amanda Gorman, we see a similar messaging of peace, love and spiritual growth. And education plays a critical role in ensuring that this legacy is passed down to future generations." 
When he looks at young students, he is inspired by their continued optimism and joy despite the challenges they face. It's a testament to the strength of their spirit, he said.   
Black Joy is a change of direction for "Black Power Matters," which is being organized by new Ethnic Studies Professor Goshu Tefera and will include drummers from the Fresno African Drumming Group and a panel discussion featuring Stan State students. 
A graduate student of Campbell's at Syracuse, Tefera is a native of Ethiopia, taught at Australia's renowned Monash University and specializes in human geography. His work complements that of Mary Roaf, who has taught at Stan State since 2018, focusing Black studies on interlocking oppressions of race, class and gender, predominately in the United States. 
The founder of Black Power Matters, Roaf is the interim chair of the Department of Ethnic Studies for the 2022-23 academic year and turned the program over to Tefera. 
"I'm very excited about this direction and this emphasis," Roaf said. "I think it's a really important way to relaunch holding this event in person." 
Focusing on joy as it welcomes an audience seems appropriate. 
"We fight oppression, segregation and white supremacy and colonialism, but that's not the end of the story," Tefera said. "There's much more than that. People have thrived. They have been here amidst all these challenges. They were able to overcome the racist part of it. The thriving part of it, and the joy part of it, is what we want to celebrate as well. 
"Dr. Campbell has been involved in various initiatives highlighting these issues for more than 30 years. He's a peace advocate. He's a justice advocate. He's part of associations in Africa and the United States and tries to highlight those achievements." 
Campbell is also a renowned scholar and author and his work in educating students remains the great joy of his day, he said. 
He approaches teaching students, particularly Black students, by reminding them that while they want to move as quickly as the internet does, there are steps they need to take to become scholars. The ability to read and write and think critically is paramount. 
"These skills will help them to effectively communicate their ideas and contribute to their communities," he said. "It's also important to educate them on the history and contributions of their ancestors, including the roots of mathematical traditions such as fractals, which have their origins in Africa. This will help to foster a sense of pride and connection to their heritage." 
Campbell was a beloved mentor for Tefera, and the two remain in close contact. Being able to bring Campbell to Stan State is a joy for Tefera. 
And, when he sees Tefera in his role as a professor, Campbell sees success. 
"The work will continue," Campbell said. "We will have a better world. As I consider what was taught to me by my elders who were concerned about me and wanted us to have a global understanding of our place in the universe, not just in the world, I'm happy to see Goshu is a global person, whether living in Australia, Ethiopia or California." 
Other Black History Month Events at Stan State
Black Jeopardy 
2:30-1:30 p.m. Wednesday, Feb. 15. Celebrate Black History Month with a fun Black Jeopardy trivia and lunch. Engage with peers, enjoy some treats and win fun prizes. Co-hosted by the Warrior Cross Cultural Center and Stan State Black Student Union, the event will be held in Room 201 in the Library. Register today.
Artivism Display 
Works of activist art by ethnic studies students are on display in the cases in the lobby of MSR throughout the month. 
Black History Month Exhibit in the J. Burton Vasché Library
Visit the display cases on the first and second floor of the Library throughout February. The materials on display are a collaboration between the Warrior Cross Cultural Center and the Library.