2018-19 Reaffirmation of Accreditation
Stanislaus State was reaccredited by the WASC Senior College and University Commission (WSCUC) for nine years in July, 2010.
Since the last Stanislaus State review, WASC implemented a new accreditation review process. This new process aligns accreditation efforts with the university's internal planning and review mechanisms and shifts from a compliance review to a validation of effective ongoing internal systems of review and improvement within the university.
Our next Comprehensive Review will occur in Spring of 2019.  A WASC Steering Committee has been formed and they are committed to ongoing engagement and collaboration with the entire campus community in order to create the story of Stanislaus State, as discovered through the institution's self-study of its performance on WASC Standards and Criteria for Review (CFRs).

WASC Steering Committee and Workgroups
The WASC Steering Committee consists of faculty, staff, students and administration which represents a wide range of campus stakeholders.  The workgroups were created to ensure shared participation in the various areas of the reaffiramtion of accreditation process.  Each workgroup is lead by two WASC Steering Committee members and all other member participation is on a volunteer basis.
Click the image to log into Campus Labs
2018-19 Reaffirmation of Accreditation Milestones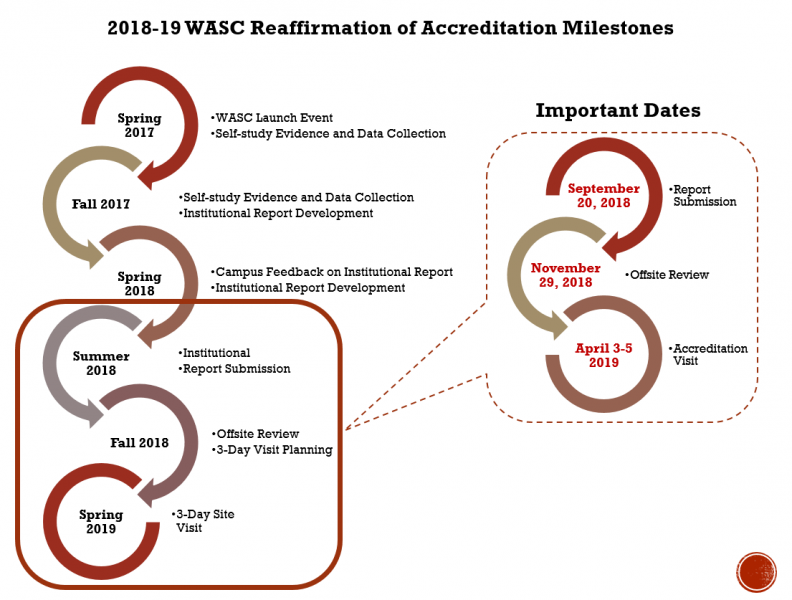 Semester / Year
Key Milestones
Spring 2017

WASC Launch Event
Self-study Evidence and Data Collection

Fall 2017

Self-study Evidence and Data Collection
Institutional Report Development

Spring 2018

Campus Feedback on Institutional Report
Institutional Report Development

Summer 2018

Institutional Report Development (cont.)

Fall 2018

Institutional Report Submission - September 20, 2018
Offsite Review - November 29, 2018

Spring 2019