The Educational Effectiveness Review is intended to be significantly different from the Preparatory Review. Its primary purpose is to invite sustained engagement by the institution on the extent to which the institution fulfills its educational objectives. Through a process of inquiry and engagement, the Educational Effectiveness Review also is designed to enable the Commission to make a judgment about the extent to which the institution fulfills its Core Commitment to Educational Effectiveness:
The  Institution evidences clear and appropriate educational objectives and design at the institutional and program level. The institution employs processes of review, including the collection and use of data that assure delivery of programs and learner accomplishments at a level of performance appropriate for the degree or certificate awarded.
CSU Stanislaus Educational Effectiveness Review Report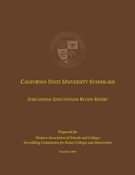 ​EER Report - December 2009.pdf
Learning is Paramount - Video
Learning is Paramount from CSUSTAN on Vimeo.
WASC Required Data Exhibits
Archive