Students Transitioning to Engaged and ​Motivated Success
STEM Success
California State University, Stanislaus seeks to further engage Hispanic/underserved and low-income students in comprehensive, year-round programming dedicated to improving retention, persistence, and graduation of undergraduates in math and science disciplines. The STEM Success project responds to the U.S. Department of Education's request for proposals under the Hispanic-Serving Institutions Science, Technology, Engineering & Mathematics (STEM) and Articulations Programs.
Warriors on the Way (WOW) 2 STEM is a collaboration with Stanislaus State serving as the lead. Programming facilitates the transfer of STEM students from top regional feeder colleges by improving the articulation and advising process. 
STEM Summer Experience is a structured, student-centered opportunity for incoming freshmen and transfers in early STEM experiences designed to facilitate discipline immersion and exploration that enhances self-efficacy, transition to Stanislaus State and understanding of scientific research.
STEM Engagement implements activities for newly enrolled transfers and freshmen during their first years on campus. Programming includes a General Education course, faculty mentoring, undergraduate research opportunities on and off-campus.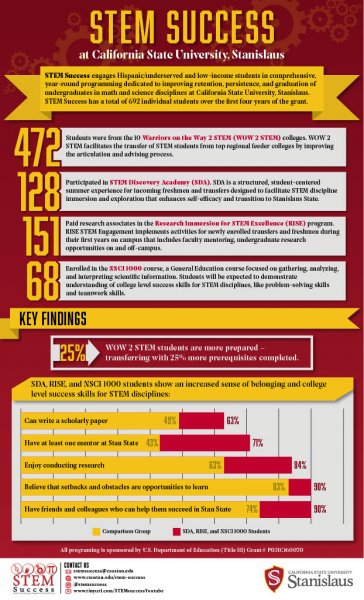 View STEM Success Infographic.pdf
Watch our recent webinar on Creating a Sense of Belonging for STEM Students
All programming is sponsored by U.S. Department of Education (Title III) Grant# P031C160070.