Professor Clay Everett is on Sabbatical until Spring 2020.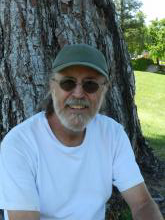 Professor Everett serves as Technical Director/Lighting Designer for the Department of Theatre at CSU Stanislaus.  Clay's courses include: Stagecraft I & II, Fundamentals of Lighting Design, Playgoing, and Theatre Workshop. Prior to CSU Stanislaus, Clay came from Willamette University in Salem, Oregon, where he taught technical theatre and was the Technical Director/Lighting Designer for five years. Before Willamette, he was the Assistant Professor of Technical Theatre for two years at Kalamazoo College in Kalamazoo, Michigan.
Professor Everett holds an M.F.A. from Humboldt State University, and his B.A. is from CSU Stanislaus. Before teaching, Clay was the Technical Director for the CSU Stanislaus Theatre Department for three years, and he was also the Designer for CSU Stanislaus Summer Theatre program from 1993 to 1996. For four years, Clay was the Technical Director for Sacramento Light Opera (Music Circus), a professional 2,500 seat arena stage under a circus-style tent that was erected each year in downtown Sacramento, CA.
In addition to his University training, Clay has four years experience as a welder and sheet-metal worker from the Navy and three years as a welder at a Tank and Trailer Manufacturing Shop.
The loves of his life are his wife Elaine and his son Noble born February 18, 2003. He enjoys playing guitar, creating sculpture, camping, bicycling, and golf. In 2008, Clay was able to transfer his skills in the scene shop to a much larger scale, when he and Elaine worked together creating the "Jurassic Journey" Dinosaur Exhibit at the Stanislaus County Fair.  The success of that birthed CNE Creations, which Clay and Elaine operate together, creating full-size environments for fairs and events all over the west coast. In fact, Clay will be on sabbatical for the Fall 2012 semester, working on several fairs, including the largest west coast fair; work which allows him to continue working with new materials such as spray foam, creating new set construction methods which he brings back to our students.
Contact Information
Building: Drama Building
Building #7: Map
Office Location: Room D-23 - See Map
Phone: (209) 667-3196
E-mail: CEverett@csustan.edu
Office Hours: On sabbatical for Fall 2019