​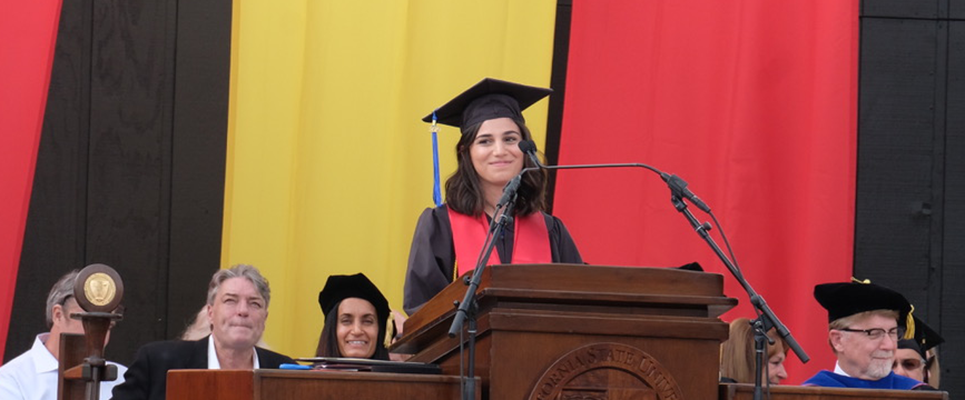 Emily Yonan, who earned a bachelor's degree in political science at Stanislaus State and is headed to Washington University in St. Louis to pursue a law career, addressed her fellow graduates of the College of the Arts, Humanities and Social Sciences during the first of three ceremonies marking the University's 2019 Commencement.
Yonan, who came to Stan State from Turlock Christian High School, said she was honored to speak on behalf of the graduating class to share her Stanislaus State experience about the uncertainty of selecting a career and the importance of self-awareness when deciding future opportunities to pursue. 
"There is no correct way to live your life and there is no set path to follow to achieve a goal," she said. "You know yourself better than anyone and know what works for you and what doesn't. Don't be embarrassed by your uniqueness and don't shy away from it, but rather, embrace all that you are—your quirks, past failures that have only made you stronger and your achievements."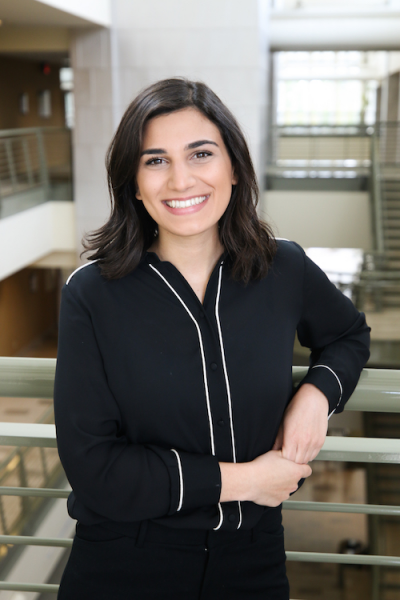 Yonan, who worked for House Leader Kevin McCarthy in 2017 as part of the Panetta Institute for Public Policy Congressional Intern Program, admitted that it took quite some time for her to find her own educational path.It was the call from Stan State President Ellen Junn informing Yonan about the Panetta internship that set her mind at ease. "That call changed my life – my whole trajectory - solidifying my future in law," Yonan said.
The nomination, which came from Dr. James Tuedio, Dean of the College of the Arts, Humanities and Social Sciences, and Dr. Stephen Routh, a professor of political science, encouraged Yonan to realize her potential and gain the confidence of having a support system every step of the way. 
"These educators instilled within me the belief that I can achieve whatever I set my mind to, they have walked alongside me throughout my journey at Stanislaus State and they have both taught me, through example, what it looks like to truly encourage another in their pursuits—to be there for someone and lend a helping a hand whenever possible," Yonan said.
Dr. Routh praised Yonan's talent, motivation and maturity, as well as her profound sense of service and her abiding interest in advancing the public good. "She has interpersonal and communication skills that make any interaction with her both enlightening and engaging," Routh said.