Student Services Specialist is a Guiding Presence at the Stockton Campus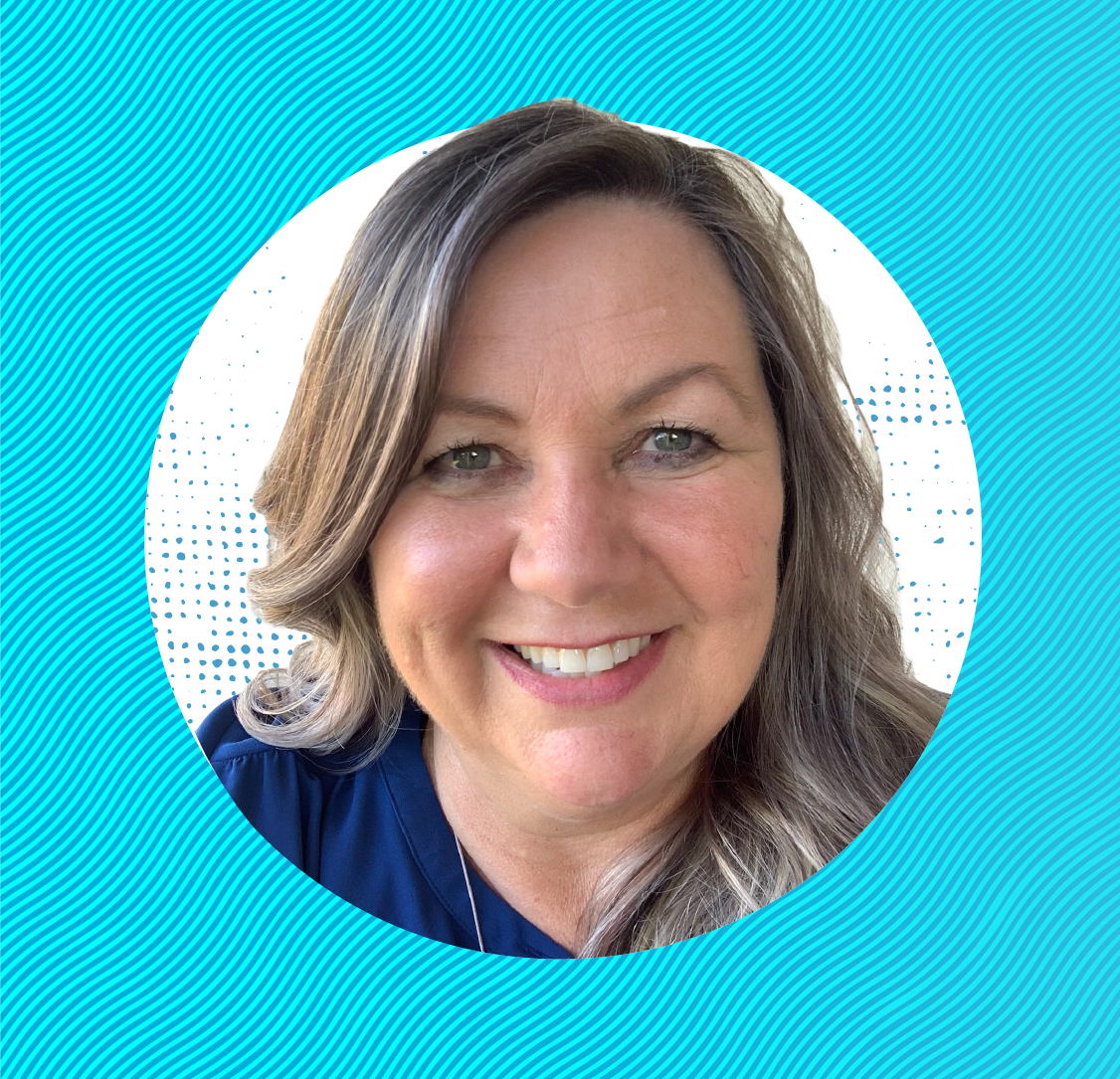 Zona Zaragoza's beautifully embroidered mask – a nod to the Mexican American heritage of her husband, Jose, – hides her smile as she juggles student questions, handles the cash deposits that are delivered to the armored truck, listens to the walkie talkie in case of an emergency and throughout the pandemic, made sure requested library books were handed out to students at the Stockton Campus.
A 15-year student services specialist, Zaragoza is a familiar face at Stanislaus State's Stockon Campus as she handles the front desk, answering, directing and sometimes, just listening.
"My favorite part is helping students, being a student contact," Zaragoza said. "I love watching them through the whole process, seeing them at New Student Orientation, when they come in so excited and everything is new to them and seeing them get acclimated to the University, and then commencement, which is always wonderful."
She is, perhaps, a trusted point of reference for students, because she was in their shoes not so long ago.
In 2011 she earned a bachelor's degree in psychology, finishing the education she'd begun at Santa Clara's Mission College after her 1982 high school graduation.
"I helped so many people working toward their degree, and honestly I never thought I would have the opportunity to go to school, because I didn't think I'd have time with working and raising a family," Zaragoza said. "When I was helping other students and motivating them, I realized I, too, could take part in education."
Once the youngest of her four children went to college, Zaragoza began her pursuit of an advanced degree and completed her master's degree in education, with a professional clinical counselor concentration, in 2017.
She spent two days a week doing clinical work as a counselor at Hawkins Elementary School in Tracy to fulfill a master's program requirement.
"I loved doing the hours there," Zaragoza said. "It was so rewarding to be able to counsel. The age group was K-8, and I had never worked with younger children. I was nervous trying it out, but I really enjoyed it."
School counselor jobs are contracted, though, and Zaragoza chose the stability of her position at Stan State.
"It was worth getting the degree to be more helpful," she said. "The thing that made me the best employee I could be was being a student as well."
Zaragoza also has an outlet for her counseling skills. Four nights a week she's a resident counselor at God's Love Outreach Ministry for clients with mental health and addiction issues.
A student told her about an opening there when she was looking for a part-time job to help pay for her eldest daughter's 2013 wedding. She's stayed and continues to work 32 hours a week.
The position offers more than an opportunity to use her education.
"I try to stay busy since Matthew's passing," Zaragoza said.
Her son, Matthew, died 16 years ago, at the age of 16, when he suffered a head injury during a football game while playing for East Union High School in Manteca. After a week on life support, Matthew was gone and the Zaragozas donated his lungs, heart, liver, kidneys and pancreas to transplant patients.
Zona and Jose became champions of organ transplant, even appearing on the Montel Williams Show, where they met two of the four recipients of Matthew's organs. In time, they would hear from all four, and two remain in touch.
That work continues and is one way to keep Matthew present. He, of course, remains very much alive in their hearts.
His twin sister, Katrina, who was a cheerleader when Matthew was on the football team, earned her bachelor's degree from Stan State a year after her mom completed her undergraduate studies. The two took some classes together at San Joaquin Delta College and on the Stockton Campus. She is now married with three young boys. Her second child's middle name is Matthew. If she has another boy, she's considering naming him Matteo, a version of Matthew. Zona likes that idea, keeping Matthew's name for him.
"A lot of people ask if we were mad at football, if we blamed football, but it was something he loved. He died doing something he loved to do," Zaragoza said.
She remembered how upset he'd be when the season ended, because he loved the game. After he passed away, she found the play sheet he was studying the night before his final game.
Cleaning out his backpack after he died, they found a paper he'd written. It asked, "What are you?" and he said he was a football player. In response to a question about what worried him, he said, "My family."
"He was worried about his family, and he had to leave us early," his mom said. "He wrote on the paper he wanted to live forever in everyone's mind as a football player. He is forever in our minds, as a 16-year-old football player."
The family relied on their faith to endure the unimaginable loss. It still does.
"Our belief in an afterlife and that we'll see Matthew again is what has been a driving force for all of us," she said.
Filling her hours with meaningful work has been another coping mechanism. It's also, she said, a small thank you.
"The community did so much for us when that happened, I'll try as hard as God allows me to, until the end of my life, and I still won't be able to repay back everything the community did for us during that time," she said.