Note: This article is part of the StanGrad series highlighting Stanislaus State students who are part of the Class of 2018.  Read more StanGrad profiles.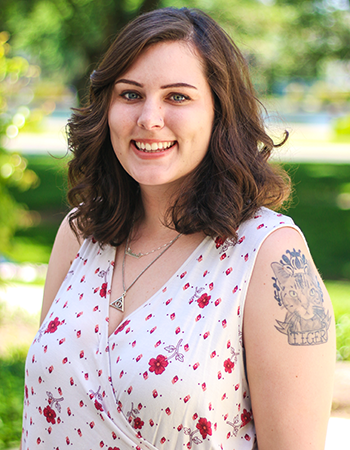 As an undergraduate at Stan State, Tara Dybas was diagnosed with cancer. Fighting her way back to health, she found motivation and determination in focusing on her educational goals and creating the life she wants to live.
"I was extremely sick," said Dybas, who remained at Stan State to pursue her master's in English literature. "I used to joke that Stanislaus State would have to give me a posthumous degree." Returning to school for her final undergraduate year was both a triumph and a tremendous challenge, juggling classes and therapies to continue her progress. As a graduate student, she dove into English Department activities and worked at the Writing Center, all in the pursuit of what she hopes will be a Ph.D. In that effort, Dybas will enroll at UC Riverside this fall.
"Having had my life upended by a devastating cancer diagnosis, I've been motivated to do exactly what I want in life, and what I've always wanted is to be a Shakespeare scholar," she said.
Her grit and commitment gained the notice of faculty members.
"Much is remarkable about Tara," said Jesse Wolfe, professor of English. "I can testify that she's a terrific writer, an articulate interlocutor and a warm colleague to her fellow students. But her commitment to campus life extends beyond the classroom. She has competed in two Student Engagement in Research, Scholarship, and Creative Activity (SERSCA) research competitions, been a teacher's assistant for three courses, taught a first-year composition course and tutored graduate students in writing, all while maintaining various jobs on and off campus." Dybas also presented at four conferences, an achievement Wolfe termed "a rare attainment" for a master's student.
"My ultimate goal is to teach Shakespeare and other early modern dramatists, and my hope is that I'll be able to teach at a CSU. I've been incredibly fortunate to benefit so much from the CSU. I want to return the favor of quality education," Dybas said.
---
#StanGrad File
Degree/Credential
Master's in English Literature
What memories stand out most from your time at Stanislaus State?
"I've been at Stanislaus for six years so I have plenty of memories. Most of my recent memories involve the English Department. Last summer with my Writing Center coworkers was a delight, after-hours fun with graduate students and professors, end-of-semester class banquets at professor's homes and studying and getting together for dinners with my graduate cohort. I do advise that students get involved in their communities, so naturally all of my memories have to do with my English Department community!"
Which faculty or staff member had the greatest impact on you, and why?
"I've been fortunate to develop close bonds with so many professors in the English Department, but without a doubt, Dr. Tony Perrello is my dude. Five years ago, I took a Shakespeare course with him and that was it — now I'm on my way to a Ph.D. program so I can teach early modern literature at the university level. Dr. Perrello has been enormously supportive. He's given me so many opportunities for professional development — thesis writing, teaching assistant positions — and he's become my friend in the process."
What advice would you give to current and future students?
"My advice is always to engage with your community. Speak up in class, ask questions and develop relationships with professors and classmates. This engagement will afford you opportunities that you wouldn't get otherwise. If I had never become friends with graduate students when I was an undergrad, I wouldn't have been prepared for the graduate program. I wouldn't have known about or been able to attend conferences and research competitions. And I wouldn't have been accepted into a Ph.D. program without the immense support I received from professors. Be present in your community and accept any and all support."