Warriors Put Their Legal Debate Skills to the Test
Stanislaus State students put their legal debate skills to the test when they competed against other teams from around the state in the American Moot Court Association Western Regional tournament.  
Students McKenna Curtiss and Jacob Brucker advanced to the Sweet 16 round. Although they did not make it to the elimination round, they were excited to be able to compete with the finalists. 
"This is the first time I took the moot court class. I have had classes that (Associate Professor Blake Wilson) taught before and he told me about the competition," said Curtiss, who is entering into her senior year and plans on graduating in fall 2023. Her plan is to go to law school after graduation.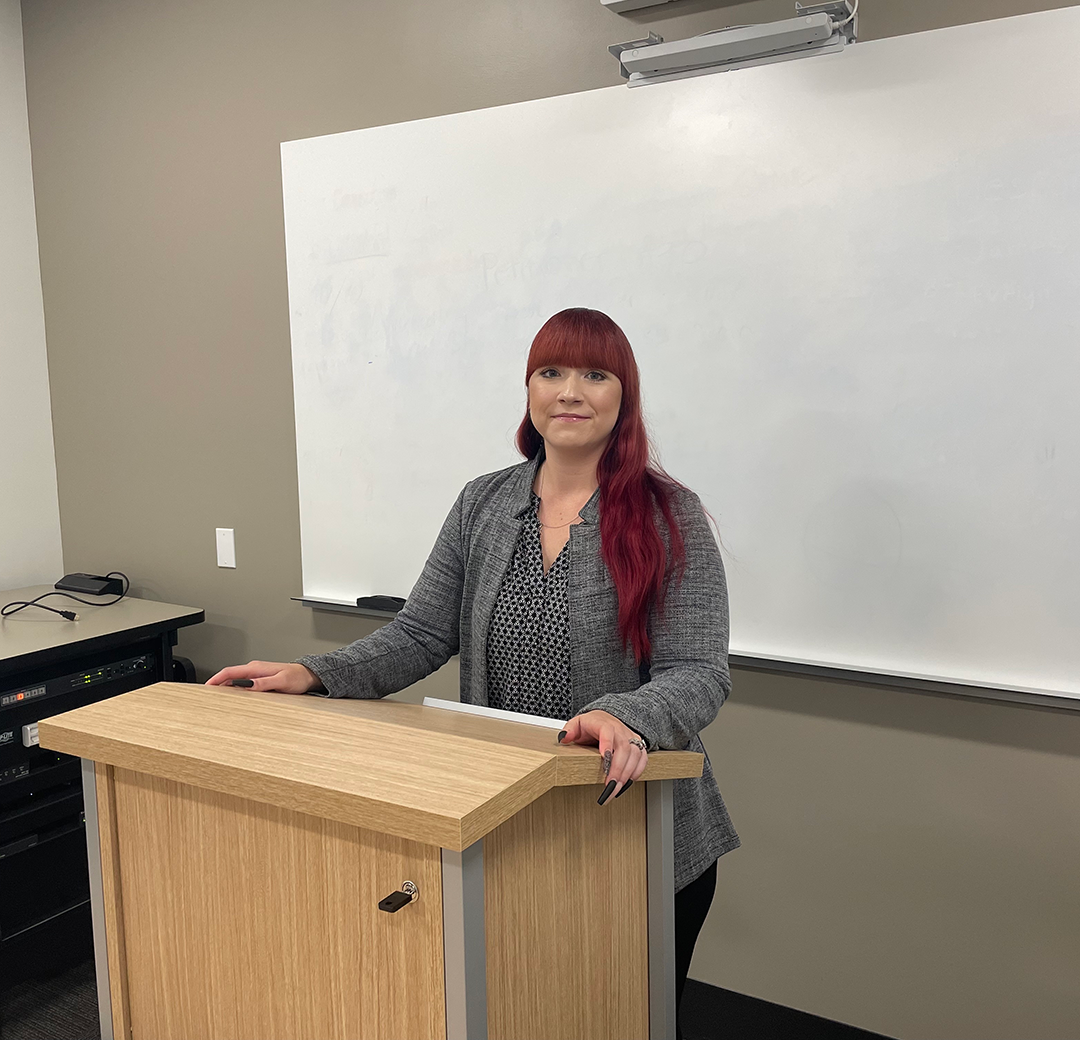 Held in Fresno, 32 teams competed in the tournament, including teams from UCLA and USC and several CSU campuses in Fullerton, Fresno, Long Beach, San Francisco State and San Luis Obispo. 
The students had to know both sides of the argument because they didn't know which side they would be arguing until moments before each round.
"As with anything, you have to get into the mindset," Curtiss said. "I had to have arguments prepared on both sides and had to switch gears if I needed to. It got me out of my comfort zone. "I like talking to people but this is a different kind of interaction where you have to recover in an elegant way." 
Like an actual Supreme Court case, the students were given a 23-page hypothetical case to look over.  
Curtiss said she and Brucker worked well together.   
"Jacob and I offset each other," she said. "I have had other classes with him, and we make a good team. 
Brucker said the competition was a great experience. On track to graduate in May, he said he would participate again if he could.  
"If you think you are interested in debate, take this class. It helps you grow as a person and gets Stanislaus State out there," Brucker said. 
Moot Court students who did not participate in the Fresno event formed two teams that participated in the championship competition in December.   Students gained points based on their overall arguments along with their professionalism, appearance, how well they were able to recover and how well the students performed during their rebuttal.  
For the local competition, there were three judges: Stan State Assistant Professor Judy Bandermann, political science faculty member Kiyah Lee and Stanislaus County Superior Court Judge Sonny Sandhu. All three judges are also members of the State Bar of California. 
Melissa Castillo's and Sabrina Jensen's presentation earned them the title of "Moot Court 2022 Intramural Champions. 
Student Gisselle Esquivel is in her last semester at Stan State and is currently applying to law school. She took the class last semester and said It was "a really good experience. It is a lot more pressure but also a lot more fun," Esquivel said. 
She added that Associate Professor Blake Wilson was helpful in the way he coached and prepared her and her fellow students.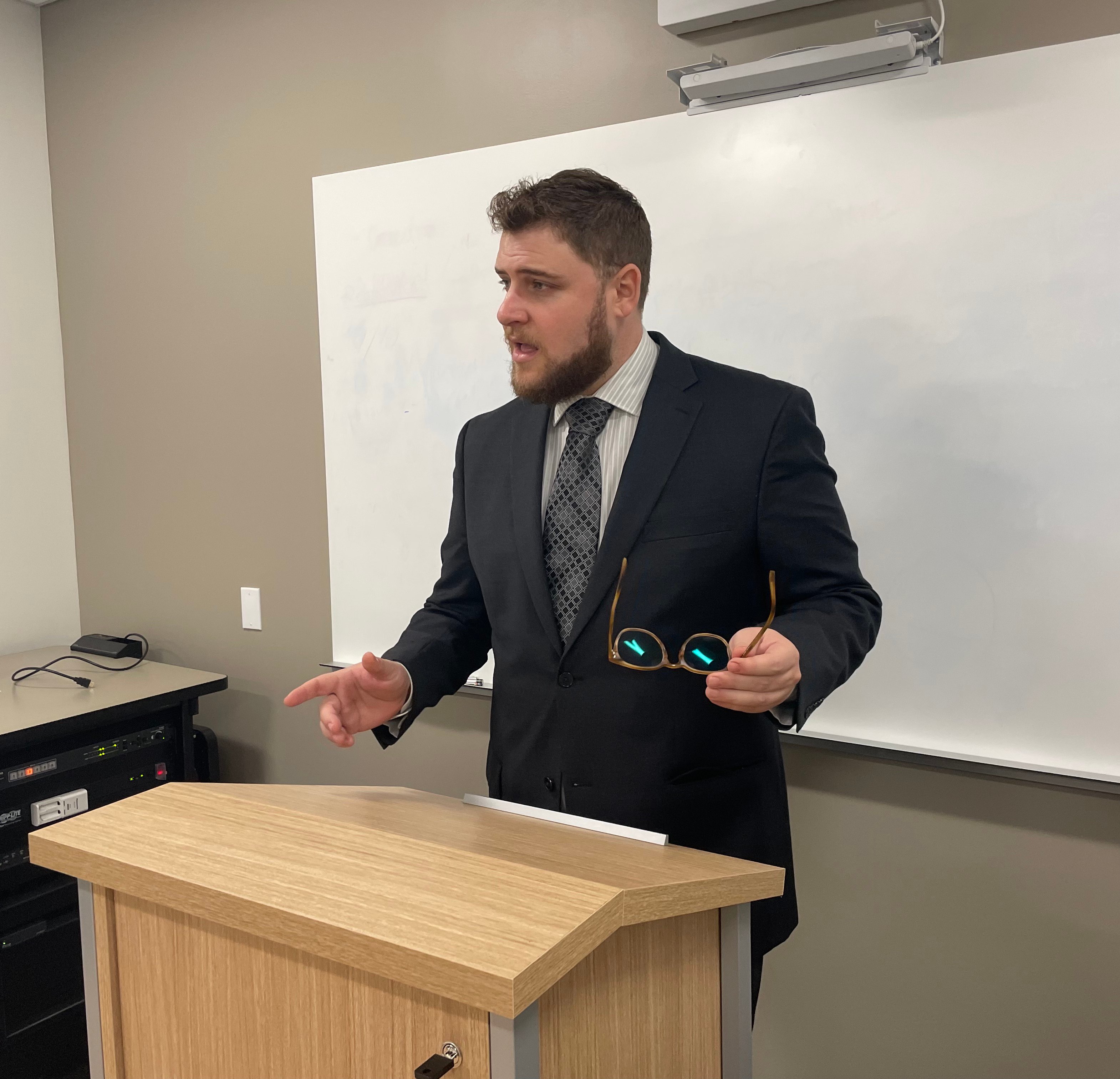 "He was great," she said. "He guided us from different angles."
According to Wilson, who developed and teaches the moot court class, the competitions are a great way to recognize the student's skills.   
Participation strengthens the students' confidence and hones their thinking in ways that no typical course can.  
"After winning this year's intramural championship, a student said to me: 'I've never won anything before in my life,.'" Wilson said. "That makes the whole program worthwhile."