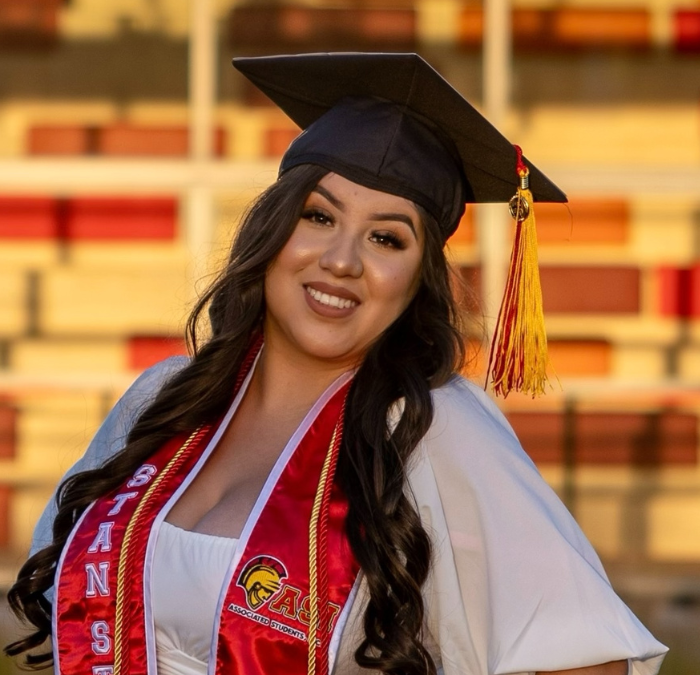 Although she is graduating with a Bachelor of Science in Business Administration, Violeta Reyes doesn't fit the Hollywood image of a corporate titan. 
Rather, the Riverbank product tends to lead from the heart, and is looking to make an impact locally. 
She already is. 
The graduate that her supervisor with Associated Students Inc. Student Government, Maria Marquez Mendoza, calls "a ray of sunshine" helped plan the Stan State Chicanx Commencement in Spanish, so her parents could understand the program and celebrate the achievement of their daughter, a first-generation graduate. 
And she hopes to use her business degree, with an emphasis in marketing, to help local businesses. 
"I am passionate about helping small businesses thrive by developing effective marketing strategies that enhance their visibility, attract customers and drive growth," Reyes said. "I aim to use my knowledge in digital marketing, market research, branding and social media to create impactful campaigns tailored to the unique needs of each small business. Ultimately, I want to contribute to the success of these businesses and make a positive impact on the local economy." 
A transfer student, Reyes spent her time at Stan State using the skills she learned in the classroom as an employee of Associated Students, Inc. Student Government. 
"She served as the ASI Student Government Social Media Student Assistant and has grown into a creative individual who informs students about the programs, services, events and campaigns Student Government offers," said Marquez Mendoza, interim ASI student government assistant. 
Reyes said she seized the opportunities of college, a "a time of growth, self-discovery and learning." 
In addition to working for ASI, she was an officer in Phi Sigma Sigma. 
Reyes said she chose to attend Stan State because of the reputation of its College of Business Administration, and she was able to make connections with professors, staff and students she hopes to maintain as she enters the business world.  
Her goal is to work for a company to build her skills and knowledge as a digital marketer until she is ready to launch her own company. 
#StanGrad File
Degree/Credential
Bachelor of Science in Business Administration with a concentration in marketing 
What memories stand out most from your time at Stanislaus State?
"There were so many memories created in my two years at Stan State, but the highlights were holding leadership roles and being with my sisters in my sorority, Phi Sigma Sigma, and working for Associated Students, Inc. Student Government. I built professional skills and began networking. Being a New Student Orientation leader and meeting incoming students and being a guide to them was also memorable. One of the most rewarding aspects of that experience was the opportunity to make a positive impact on incoming students' lives." 
Which faculty or staff member had the greatest impact on you, and why?
"Maria Marquez, my supervisor for ASI Student Government, was a phenomenal supervisor throughout my two years. She is the first person I met at Stan State. We connected as first-generation Mexican American students interested in being involved in college and trying different things that helped us grow as individuals. Her constant belief in my abilities and willingness to invest time and effort helped me flourish in my role with ASI." 
What advice would you give to current and future students?
"My best advice would be to embrace opportunities for growth. College offers a wealth of opportunities beyond the classroom. Get involved in clubs, organizations and extracurricular activities that align with your interests. These experiences can help you develop new skills, make connections and broaden your horizons. Network and build relationships; connect with your peers, professors and professionals in your field of interest. Attend career fairs, join professional organizations and take advantage of networking events." 
---
Note: This article is part of the StanGrad series highlighting Stanislaus State students who are part of the Class of 2023. Read more StanGrad profiles.