Note: This article is part of the StanGrad series highlighting Stanislaus State students who are part of the Class of 2020. Read more StanGrad profiles.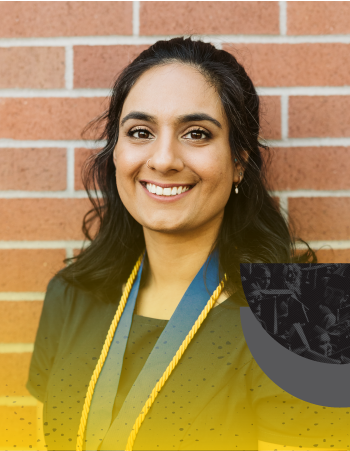 Jasmine Pahal grew up in the shadow of Stan State.
A daughter of parents who didn't graduate from college, she dreamed of one day being a student on that big, beautiful campus, and she made those dreams come true. With a little help.
"I could not have made it this far on my own," said Pahal, the eldest child in her family and a first-generation college student. "There are many resources available for students like me. Reaching out to professors, financial aid advisors, academic advisors, tutoring services and health services, has helped me stay in college and get my degrees. Originally, I did not have the information or mentality I needed to get through college but utilizing the services available at the University helped me accomplish something I never believed possible."
Pahal completed her master's degree in counseling, professional clinical counselor track. Next, she'll apply to become a professional clinical counselor.
"My goal is to be able to serve students in the community college setting with mental health, social-emotional and academic issues," Pahal said. "I understand the struggle of going to a community college with the hopes of getting into a four-year university. Starting the process of making that dream a reality can be intimidating. I want to help students, all students, no matter their background or challenges. I want to help as many people as I possibly can."
She already has shown her ability to make a difference for others.
"Throughout her program, Jasmine has been a huge advocate for social justice issues and has been a tremendous role model to her peers," said Suzanne Whitehead, counselor education program coordinator. "Jasmine always stands up for what is right and reaches out to support those who are disenfranchised and hurting deeply. Jasmine will go on to be the voice for those in their darkest hours, and the world will benefit greatly."
---
#StanGrad File
Degree/Credential
Master of Arts in Education, Counselor Education Concentration: Professional Clinical Counselor (PCC)
What memories stand out most from your time at Stanislaus State?
"The memories that stand out most include the times that I spent with my classmates and getting to know my professors. I have learned a lot from the stories we shared, the lessons and discussions we engaged in and the work that we collaborated on together. The connections that I have made have been invaluable to me; I am glad I had the chance to meet many wonderful people!"
Which faculty or staff member had the greatest impact on you, and why?
"Kathleen Hidalgo, the program academic advisor, has made one of the greatest impacts on my life as a student. Had it not been for how incredibly patient, helpful and informative she was when I first met her regarding the counselor education program, I probably would not have had the courage to apply. Without her counsel, I do not believe I would be graduating with my master's degree this year. Dr. Whitehead, Dr. Cordova, Dr. Spain, Dr. Vargas, Professors Deanna Staggs, Keith McCann, Joe Serena and Genine Meraz all have impacted me in positive ways."
What advice would you give to current and future students?
"Create a support system. Having a support system keeps you grounded and accountable. College can be incredibly challenging and maintaining balance in other aspects of our lives can feel exhausting. Friends that are in your program may have a better understanding of your struggles. It is nice to have friends you can rely on to help uplift, encourage and empower you, and it is a nice feeling to be able to do that for your friends in return. Having a support system means you do not have to do it alone."