Note: This article is part of the StanGrad series highlighting Stanislaus State students who are part of the Class of 2020. Read more StanGrad profiles.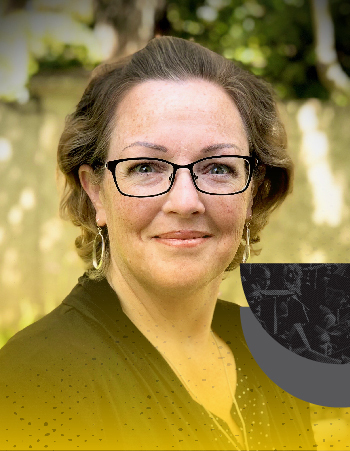 If not for the Stanislaus State Stockton Campus, Katherine Beus Cusumano might still be dreaming of helping people overcome mental health challenges instead of getting a degree that will enable her to do it.
"Stan State offered a huge convenience with the Stockton Campus. I am so grateful to have a state university close to home," said Beus Cusumano, a Lodi widow whose children are still in elementary school.
"My student and life experiences at Stan State helped me move through and past the loss of my husband. I enjoyed attending every class and being with my cohort. I needed the extra support through strangers and friends — and I got it through Stan State."
By attending classes in Stockton that worked around her schedule, Beus Cusumano was able to keep her commute short and avoid hours of late-night driving while she earned a master's degree in education with a professional clinical counseling concentration.
Her next step is to apply to the California Board of Behavioral Sciences to become a professional clinical counselor and start giving back to her community.
"I am hoping to work here in San Joaquin County with either the county government or non-profit organizations where I can offer therapy to individuals who are struggling," she said. "Everyone deserves a chance to get help. I want to be there to help people work through depression, suicide ideations, loss and grief, addictions and other mental health barriers that can be overwhelming."
One of her professors, Mira Mayer, believes Beus Cusumano is perfectly suited for a career in clinical counseling.
"She excels not only in academics, but also as an amazing human being," Mayer said. "She is always helping her classmates and courageously faces every challenge placed in her path with a smile and positive attitude."
---
#StanGrad File
Name
Katherine Beus Cusumano
Degree/Credential
Master of Arts in Education, Counselor Education Concentration: Professional Clinical Counselor
What memories stand out most from your time at Stanislaus State?
"Memories of my fellow classmates. I will forever be changed because of what my colleagues brought to class every time we met. We have seen each other through so much — babies, weddings and even death. The counselor education program allowed the cohorts to get personal. I know that I will always have close friends and colleagues to turn to when needed."
Which faculty or staff member had the greatest impact on you, and why?
"I would have to say that Dr. Mira Mayer had the most impact on my life. She helped me work through a lot of questions I had regarding my life in general. I loved her upfront approach and that she always spoke her mind. Her expectation — for me to excel — kept me going even when I was really hit with some hard blows in life.
There are other faculty members that have been influential. Dr. Suzanne Whitehead, the program director, has the sweetest disposition and will fight for the underdog at all cost. Dr. Lonita Cordova showed me that I can do it all if I want to. And Professor Deanna Staggs gave me a chance to flourish in a field that I had no experience in, and I loved it."
What advice would you give to current and future students?
"My advice would be to take it a day at a time. Plan ahead, but make sure you are living in today. It is TODAY that makes a difference — not tomorrow and not yesterday."