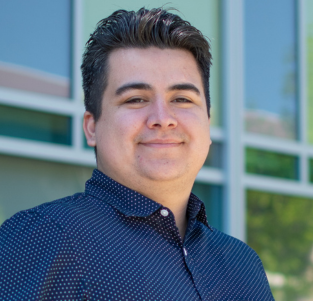 Through hard work and determination, the mightiest of tasks can be accomplished. James Green understands that all too well from his time at Stanislaus State.  
Those who know Green confirm that he will accomplish any goal he sets for himself. As a science, technology, engineering and mathematics (STEM) student, he adapted to the rigorous coursework and learned new, efficient ways of studying. 
"I learned that taking your time is always for the best," Green said. "I never rushed myself and I always compared my progress to where I was at the beginning of the courses. STEM is hard, but if you love it, you need to give yourself credit for any progress you make." 
He also came to realize he loves research and learned that participating in research projects may provide funds to help pay for his education. The work also helped narrow his interest within the field of biology. 
"I would love to work for a national laboratory doing molecular biology or microbiological research," Green said. "Graduate school is also a plan I have but not right after my undergraduate studies. I want to have some experience on the industry side of research before going into academia." 
Green used his STEM background as a student employee in the Office of Information Technology. 
"He has taken on a wide range of technical support and creative jobs, including classroom upgrades, training video creation, videography and production crew for Commencement," said Tawn Anderson, director of Learning Services and Office of Information Technology Communication. "He's not only reliable and dedicated to the department, but he helps bring new student assistants into the team by making them welcome and showing them the ropes." 
When not working or studying, Green spends time with several STEM-related clubs, which have given him the opportunity to make new friends and study partners. 
Green also enjoys activities outside of his STEM courses. He is a member of Stanislaus State's gaming club, where he has bonded with other students over their love of video games. 
"I think it's important for students to find a club that focuses on social interactions with other students. It's the best way to make new friends and recharge after a long day of studying," Green said. "The Chemistry Club, Biology Student Association and STEM Ambassadors are good programs for STEM students. There's plenty of non-STEM clubs too. If you love video games, check out the gaming club. Anyone can join and we'd love new people to join!"  
After graduation, Green hopes to continue to promote science throughout the Central Valley. Thanks to the resources provided by STEM, he has a greater knowledge of biology, and now aspires to provide the same resources to students who find themselves in a situation like his. 
"Communication and outreach are very important for the future generation of scientists," Green said. "I want students to have access to the resources I was fortunate enough to have in the STEM programs at Stan State." 
#StanGrad File
Degree/Credential
Bachelor of Science in Biology 
What memories stand out most from your time at Stanislaus State?
"I really enjoyed my lab classes, not lab reports, but all of my lab courses were really engaging and rewarding to attend." 
Which faculty or staff member had the greatest impact on you, and why?
"I would say the late Dr. Jim Youngblom probably had the greatest impact on me. He was the one who helped me get involved with research at Stan State first with the RISE program and then the McNair Scholars Program. Conducting research was one of my favorite things, and I hope to do more research in the future."
What advice would you give to current and future students?
"Current students should find a club or something to be in that focuses on social interaction and also community service. The Chemistry Club, Biology Student Association and STEM Ambassadors are really good programs for STEM students. (You don't have to be from the specific major that the program is associated with.) Check out the gaming club if you want a fun group to play all kinds of games with. Future STEM students: make study groups! The coursework is easier to manage when you have people in the same situation as you." 
---
Note: This article is part of the StanGrad series highlighting Stanislaus State students who are part of the Class of 2023. Read more StanGrad profiles.