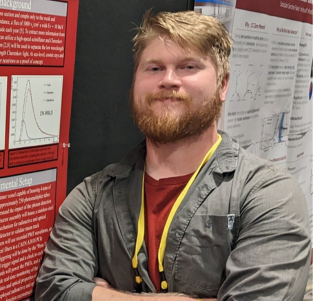 Dylon Fleming dropped out of community college the first time he attempted, but when he returned to higher education he was focused and serious. He just didn't know how far his new determination would take him.
With direction from faculty mentors and the support of fellow students, the physics major is headed to a doctoral program at UC Davis.
"If I finish my Ph.D. in Physics, I would like to return to a four-year institution like Stan State and become a professor," Fleming said.
He already has shown some of the skills necessary for a professorial career.
"Dylon is an individual with exceptional leadership qualities," said Department of Physics and Physical Science Chair Susan Mokhtari. "He has demonstrated this by playing a crucial role in bringing our majors together as a group to study, help one another and be effective tutors and role models for other students."
His fellow students added to his support system, which was grounded in his hometown of Modesto. Proximity to home was a major factor in the first-generation student's choice to attend Stan State.
As a Warrior, Fleming found himself open to opportunities presented to him. As a result, he proved to be "an excellent researcher," Mokhtari said.
His experiences not only helped him secure a spot in a Ph.D. program but also helped guide his plans for his future.
"One day, I hope to come back and help educate," Fleming said. "I want to find ways to show people that math and physics are doable, and everyone has a capacity for it; not only to grow the fields but to help humanity push itself that much closer to breaking out of the cradle."
#StanGrad File
Degree/Credential
Bachelor of Science in Physics
What memories stand out most from your time at Stanislaus State?
"I volunteered with Astronomy Night, and being able to be on the roof and use the bigger telescope was a new experience for me. Connecting with my peers in the Physics Department also stands out. There were only a few of us, but without their camaraderie, my time here would have been dull and difficult."
Which faculty or staff member had the greatest impact on you, and why?
"Dr. Brian Morsony, Dr. Wing To and Dr. Susan Mokhtari. Each played a role in convincing me to apply to graduate school. When I first transferred, graduate school was not on my radar at all, between being a first-generation student and not believing it was something achievable. Each professor played a part, from giving me a chance to do research, pushing me to achieve in the sub-field I am applying to, and constantly reassuring me that it was something achievable."
What advice would you give to current and future students?
"Develop a support system with people in your major. It helps with keeping yourself on top of tasks, and it will give you a group of people that understands your complaints and struggles. Outside of that, try not to put off assignments; spending a half an hour a day is easier to manage than a 2-hour session right before something is due."
---
Note: This article is part of the StanGrad series highlighting Stanislaus State students who are part of the Class of 2023. Read more StanGrad profiles.