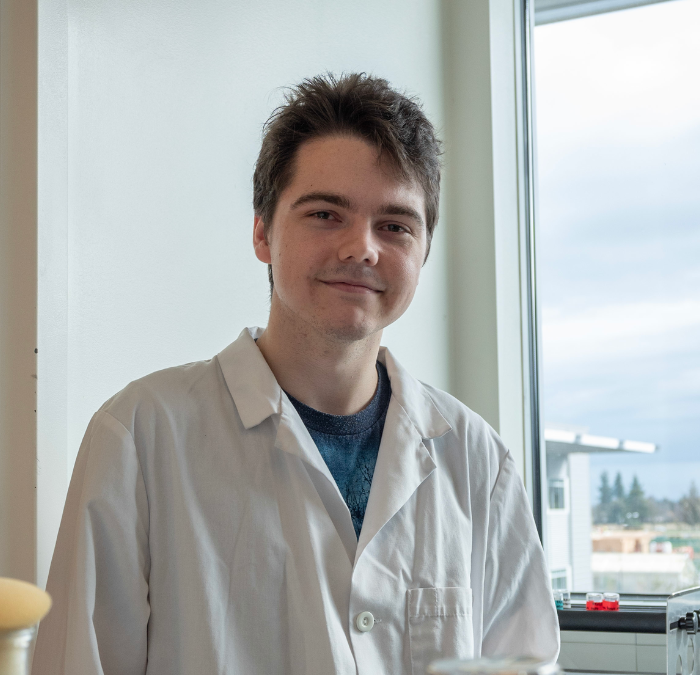 Eli Frazer said his biggest challenge as a Stanislaus State student was his chronic anxiety, but he overcame it by speaking with trusted friends and family members and by running.
Those who saw him in class, working with Chemistry Professor Gönül Schara on research projects or winning local and state research awards, would be surprised that Frazer was anything but the confident scholar he projects.   
Frazer is a 4.0 student and spent two years doing research with Schara. He hopes to enroll in medical school after receiving his Bachelor of Science in Chemistry with a biochemistry concentration.
"While I do not have nearly enough experience to decide what specialty I would want to work in, I have a lot of interest in neurology and psychiatry," Frazer said. "The brain is a wonderfully complex organ and integral to everything in our lives, from basic physiological functions to high-order emotional processing. Learning more about its intricacies and how it responds to different chemicals is something I would love to do if I am accepted into medical school."
His time at Stan State was spent studying, working and researching in the lab with Schara, on whom he made a great impression.
"He collected enough data and will be included in one of my future publications," Schara said. "Eli gave several presentations at national conferences and won both local and CSU statewide research awards. Eli knows the importance of deadlines and getting things done. I also witnessed his maturity and character. He gets along well with his colleagues and is willing to help them with their research."
Frazer chose Stan State because it was close to his home and pursued chemistry as a major after the courses he took at Modesto Junior College piqued his interest.
Although he said he did not face the same challenges many of his classmates may have as first-generation or second-language students, Frazer was able to overcome anxiety issues to master a challenging area of study.
It was perseverance, he said, that led to his success.
His enjoyment of college was being able to engage in activities outside of the classroom, either researching with Schara or being a part of student social events and clubs. Those opportunities "make it a lot more valuable," he said.
While dreaming of a career in medicine, Frazer doesn't know if it will bring him back to work in the Oakdale region near his family and friends.
"I will always recognize Stanislaus County as a vital part of my identity," he said. "I have lived here for most of my life, most of my family and friends live here, and it has made me who I am today. Wherever I go, I hope to use the foundation of knowledge laid with my degree at Stan State and what I learn in medical school to help make people healthier and happier."
#StanGrad File
Degree/Credential
Bachelor of Science in Chemistry with a concentration in biochemistry
What memories stand out most from your time at Stanislaus State?
"I'll probably remember my time in lab with my classmates the most. Whether it was learning how to use different types of spectrometers, keeping track of bacteria as they grew or watching liquid nitrogen evaporate on the floor, I had a lot of fun learning tangibly in the lab."
Which faculty or staff member had the greatest impact on you, and why?
"Dr. Schara, without question. She has given me an excellent introduction to the research process, providing me insight into bacterial biochemistry, modifying experimental procedures based on results, and the abstract writing process. More importantly, she showed me avenues for presenting the work she helped me carry out, helping me apply to national conferences, travel grants and research award opportunities. She's also a great biochemistry professor! I am so thankful for all she's done for me."
"I would also be remiss to not mention our wonderful laboratory technician Michele Gordon. I greatly appreciate all her patience; she deserves so much credit for all she does."
What advice would you give to current and future students?
"When in doubt, just reach out. The worst that can happen is somebody saying 'no.' For example, I transferred to Stan State from Modesto Junior College and really wanted to get involved in research. I had no idea if there was a formal way to go about asking how to get involved in such projects, so I just emailed every chemistry professor and asked if they had any opportunities available. I was able to get involved in two projects this way, even though several others didn't have any openings at the time. On that note, I'd highly recommend any student interested in pursuing a career in STEM join a research group; it's a great way to gain practical experience and helps you develop skills that you normally wouldn't in a traditional classroom."
---
Note: This article is part of the StanGrad series highlighting Stanislaus State students who are part of the Class of 2023. Read more StanGrad profiles.