Note: This article is part of the StanGrad series highlighting Stanislaus State students who are part of the Class of 2020. Read more StanGrad profiles.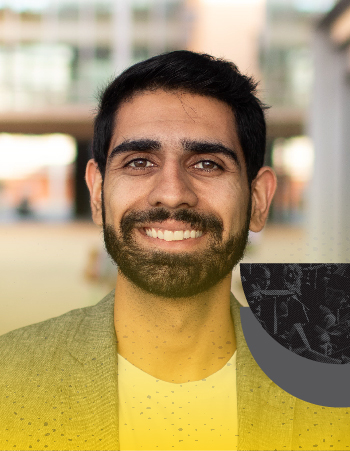 Returning to college to pursue an advanced degree was a risk for local educator Jaskaran "Jesse" Batther.
"I crossed the threshold of my comfort zone and for the first time in my life, I felt empowered," said Batther, who earned a master's degree in counseling and pupil personnel services credential. "I felt vulnerable. I felt accomplished. You can have a fresh start and can be the sole author to this blank canvas."
Batther chose Stan State because he'd heard of its quality from other educators, and his dream is to work as a counselor and then perhaps as a vice principal or principal.
"I intend to be a part of the movement that advocates for students in this region," the Atwater resident said. "With ever-changing social and political climates, I want to maintain a norm of consistency, support and motivation for students of all backgrounds to equally benefit from."
A graduate of Buhach Colony High School, Batther is sincere in his desire to continuing helping area students.
"His talents in counseling elementary and middle school children are extraordinary, and he serves as a fantastic role model to his students," said Suzanne Whitehead, counselor education program coordinator. "Jesse wants to work with severely disadvantaged and disenfranchised children and hopes to inspire more fair and equitable access for all children to reach their highest aspirations and goals. He is the type of student that is going to go very far in the counseling profession and is a champion of social justice issues."
---
#StanGrad File
Degree/Credential
Master of Arts in Education: Counselor Education Concentration and Pupil Personnel Services (PPS) Credential
What memories stand out most from your time at Stanislaus State?
"Coming to Stan State to complete my graduate education was the best decision I could have made. Through my program, not only did I meet amazing professors and classmates, I met amazing mentors, motivators and friends. It will be the late-night courses with these individuals that I will always remember."
Which faculty or staff member had the greatest impact on you, and why?
"My program had amazing faculty and staff members, and I would like to thank everyone within the Counselor Education Program for playing an integral part in my academic career. Specifically, I would like to thank Dr. Suzanne Whitehead and Dr. Dianne Vargas. The individual commitment each of these amazing women put toward every one of their students is why I feel this program develops some of the best school counselors in the Valley."
What advice would you give to current and future students?
"Stop completing things and start living them."