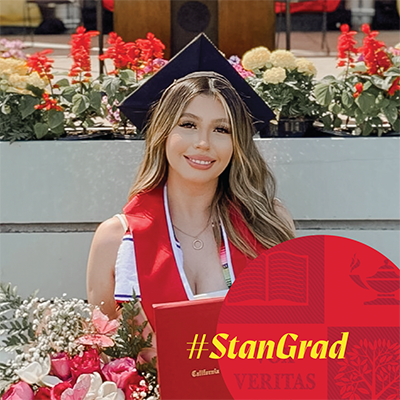 When Joseline Perez chose to attend Stanislaus State instead of the handful of other universities that had accepted her, she was following her heart.
"I fell in love with the beautiful campus at Stanislaus," said Perez, a first-generation student and devoted animal lover. "Also, I wanted to be close to home — to be with my family and my beloved childhood dog, Puckies."
Staying close to home and family proved to be beneficial for Perez. While she studied at Stan State, her older sister was a frequent source of emotional support and good advice, and her family often reassured her that choosing the University was a good choice because it assured her a bright future.
Later, Perez followed her heart once again when she made the decision to switch her major from nursing to business administration. She explains, "I had a passion for marketing that I couldn't ignore."
By the time she was done following the winding path of her Stan State educational journey, she had earned a bachelor's degree in business administration, with dual concentrations in marketing and management on the human resources track, and she is planning to pursue a Master of Business Administration.
As she looks back at the past few years, Perez sees that love often motivated her and served as a force in her day-to-day life. She met a supportive and caring partner at Stan State, enjoyed socializing with close friends, relished time spent with family and learned a lot about loving herself and taking pride in who she is.
"I would advise future Warriors to live moments to their fullest, take pride in how far they've come, take things one step at a time and overcome obstacles with the support of loved ones," she said. "I've come to love myself for who I am, and I owe that to my furry loved ones, family, friends and my partner."
Perez hopes to someday rescue animals as an activist, become a licensed esthetician with her own practice and maybe return to Stan State as an employee so that she can help other students achieve their goals.
"I want to leave my footprint in the place I studied," she said. "I'm a proud Stanislaus State Warrior."
#StanGrad File
Degree/Credential
Bachelor of Science in Business Administration, concentrations in marketing and management, human resources track
What memories stand out most from your time at Stanislaus State?
"I have fond memories of being on campus all day, and I would always end up in the library with my friend, Araceli Sanchez. Watching the show 'The Office' with friends during gaps was always an adventure. The constant journey of loving myself was the fondest memory of all, seeing how much I've grown personally and as a professional. Importantly, meeting a partner I can support, lean on and grow with is a grateful memory of attending Stanislaus State. Connecting with new friends and discovering something new while earning a degree made the memory of Stanislaus State unforgettable."
Which faculty or staff member had the greatest impact on you, and why?
"I had various professors who impacted me during my Stan State journey. Dr. Saejoon Kim constantly challenged me. Dr. Athinodoros Chronis assured me that marketing can have several aspects within a true passion. From my first day in his lecture, I never missed a day because of his kind, joyful spirit."
What advice would you give to current and future students?
"Be organized within the first two weeks of the semester, color-code and set assignments according to what is due each week. Stand out and be innovative. Don't take the easy route; challenge yourself. Always treat others with kindness, since we never know what they may be going through. Working while being a full-time student makes you one of the hardest workers out there, so be proud and don't give up."
---
Note: This article is part of the StanGrad series highlighting Stanislaus State students who are part of the Class of 2021. Read more StanGrad profiles.