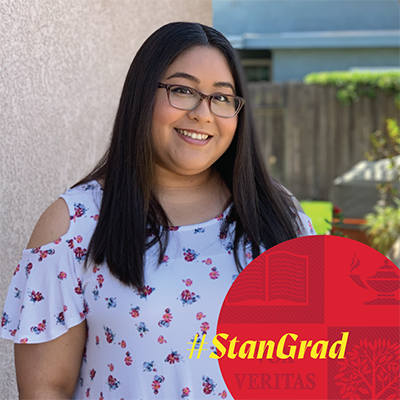 Adriana Gamboa likes to say she didn't choose Stan State.
"Stan State chose me," Gamboa said. "I was attending San Joaquin Delta College in Stockton, and a Stan Sate representative came to my class and did a presentation. In that moment, I immediately knew that was the school for me. I felt a strong connection and put all my focus toward making it a goal to transfer to Stan State."
Her life, she said, changed the day she was accepted into Stan State, and once she started, it only improved.
"I felt emotional, powerful and determined while attending Stan State," Ganboa said. "I knew this is where I belonged. Struggling through all the hurdles to get here was worth all the sacrifice, tears, commute and self-will to reach my goal. Knowing that I will finally receive my bachelor's degree is a life blessing."
Gamboa wasn't serious enough about her college education when she started in 2014 at California State University, Sacramento and dropped out. She found the student in herself at Delta College and she will graduate from Stan State with a Bachelor of Arts in Criminal Justice with a concentration in corrections.
She credits the Stan State environment, in part, for her success.
"There is such a bond and sense of community on campus that I never felt alone," Gamboa said. "Everyone — students, faculty and staff members— have been so polite throughout my school years. There is so much passion here for students to succeed, graduate and do great things in their lives. It is truly an experience I'll never forget and hope that current and future students get to experience, too. I am so proud and privileged to call Stan State my family and my alma mater."
Gamboa's ultimate goal is to join the United States Army and serve as a military police officer, travel and help people around the world in that role.
She also sees ways in which she could put her degree to work closer to home.
"I want to be part of rebuilding the trust and relationships with members of the community and law enforcement," Gamboa said. "It is a tragedy to see the bond be broken, and I want to do everything in my power to help fix it. I want to hold community events that reach out to the public and invite everyone to spend time with their neighbors and police officers and get to know one another."
#StanGrad File
Degree/Credential
Bachelor of Arts in Criminal Justice with a concentration in corrections
What memories stand out most from your time at Stanislaus State?
"The memories that stand out for me the most are attending new student orientation and making new friends who were in the same major. Having classmates that I would take all my classes with throughout the years was really fun."
Which faculty or staff member had the greatest impact on you, and why?
"Professor Sriram Chintakrindi made the greatest impact on me due to his expertise in mental health and substance abuse. When I took his Corrections and Mental Health Issues course, it was as though all my experiences with these two topics finally clicked. I was able to understand why it happened, and what can be done about it. His words of wisdom spoke to me on a deeper level and the connection felt personal."
What advice would you give to current and future students?
"The best advice I can give to current and future students is to never stop pushing forward. When you feel like you can't go on anymore, that is when you push yourself to reach the finish line. No matter what, you refocus on your classes and finish out the semester strong. Nobody else can do this, except you."
---
Note: This article is part of the StanGrad series highlighting Stanislaus State students who are part of the Class of 2021. Read more StanGrad profiles.