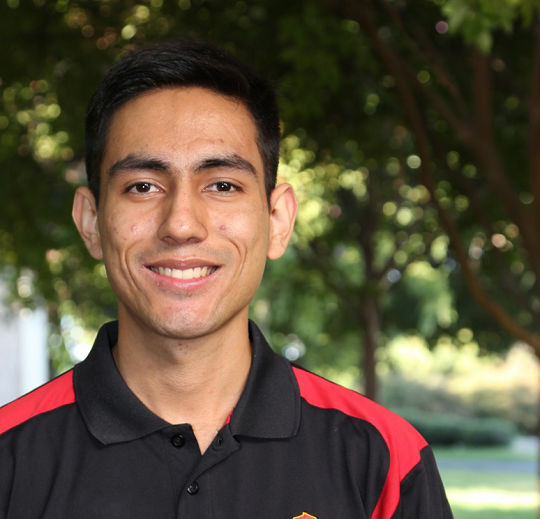 As Jose Navarro graduates with a master's degree from Stanislaus State, he finds himself thinking about ways to help other students who are dealing with psychological issues brought on by the COVID-19 pandemic.
"One of my areas of concern is the disengagement we are seeing with students in K-12 and higher education," said Navarro, who is graduating with a Master of Arts in Education, Counselor Education and Pupil Personnel Services Credential, and a 4.0 GPA. "I would like to think of new, creative ways to implement a comprehensive school counseling program, or an advising program, to help them."
It's likely Navarro will soon be in the position to create the program he dreams about. His career plan is to work as an academic advisor for a while, then transition into the K-12 school system as a school counselor. Eventually, he'd like to earn a master's degree in education with a concentration in school administration or a doctorate in educational leadership.
When Navarro first came to Stan State from Merced, he was an undergraduate majoring in sociology and a first-generation college student looking for an adventure beyond his hometown. He was excited about studying in a place where he felt a connection with the community.
"I knew the moment I came that I belonged here," he said. "Stanislaus State has given me many opportunities for growth."
He got his first taste of counseling and advising other students in 2019 when he was a peer mentor in the Academic Success Center, and he discovered he loved the work. Recently, he has been a career coach intern in the Career and Professional Development Center (CPDC), where he continues to lend a guiding hand to other students.
"Jose has consistently exhibited a sincere interest in making a difference in our students' academic careers," said Evelyn Ramos, employer and community engagement lead in the CPDC. "He genuinely cares about helping his peers succeed and demonstrates this by actively learning about resources, engaging students in learning about similar tools and maintaining a consistently positive demeanor."
Navarro says working in both the Academic Success Center and the CPDC has allowed him to follow students as they move through their educational journeys and transition from undergrads to graduate students to career-minded professionals. He said it is not unusual for him to run into students from his first caseload in the Academic Success Center who are now seeking help as they prepare for graduate school or information about careers in the CPDC.
Like those students, Navarro, too, has experienced quite a bit of personal growth since he took his first step onto the Stan State campus.
"The most powerful thing I have learned here is that I can go beyond my limits," he said. "My growth here has given me the opportunity to learn new skills and expand on my existing skills. I grew professionally and personally in my graduate program, being an intern and, most importantly, being a peer mentor."
#StanGrad File
Degree/Credential
Master of Arts in Education, Counselor Education and Pupil Personnel Services Credential
What memories stand out most from your time at Stanislaus State?
"There are several memories that stand out. I think one of the best memories was being accepted into the Master of Arts Counselor Education Pupil Personnel Services Program because it is one of my greatest achievements. Being a peer mentor is a memory that stands out because I built many bonds with students, and I am always excited to run into them and hear their stories a couple of years later. I also think about all the amazing friends I made during this journey. We have a great community at our campus, and I will cherish all the friendships I made with my graduate cohort and peer mentor colleagues. I also became friends with an international student from Spain, and it was awesome to learn about her culture while also traveling around California. I will miss the long study nights, and all the coffee I drank to make it through the day." 
Which faculty or staff member had the greatest impact on you, and why?
"I want to thank my professors and the advisors at Stanislaus State who helped me with my transition to graduate school. Dr. John Kincaid is a professor who impacted me in positive ways. He took the time to explain to me the process of graduate school and helped me see the benefits of participating in professional opportunities while I was pursuing my undergraduate degree in sociology. 
Evelyn Ramos, a career advisor, is another individual who had a positive impact on me. She helped me prepare professionally for a peer mentor position that would later open many doors for me. It is a great experience to be ending my graduate school experience at the Career and Professional Development Center as an intern because I am helping other students discover new opportunities. 
The Academic Success Center is another important place for me because this department saw me grow as a peer mentor. My supervisors Eilbret Younan, Elizabeth Zafra, Miguel Jimenez and Lissett De La Cruz encouraged me to do my best and always made me feel welcomed. I cannot say enough about how grateful I am for their mentorship. Hearing about how all four of them completed a graduate program helped me visualize my own graduate school experience. I am always told that I am a first-generation trailblazer, and I am proud to be a first-generation graduate student. 
I would also like to thank all the faculty from the Counselor Education Pupil Personnel Services Program for giving me the opportunity to grow as a counselor and learn new skills. It was a challenging journey. I think back on how I thought it would be one of the most difficult journeys, however it was the opposite because I felt empowered to help other students in the K-12 and higher education system. I met many amazing individuals during this journey, and I am now excited to move on to the next chapter."  
What advice would you give to current and future students?
"The advice I would give to students is to get involved and build a community on our campus, not just with one organization or department but reach out to others and collaborate. The most important advice I can give students is to ask questions. Talk with professors, staff and alumni. Students are part of a supportive network on campus, and I highly encourage students to ask questions and to keep being curious. We will always keep learning something new!" 
---
Note: This article is part of the StanGrad series highlighting Stanislaus State students who are part of the Class of 2022. Read more StanGrad profiles.