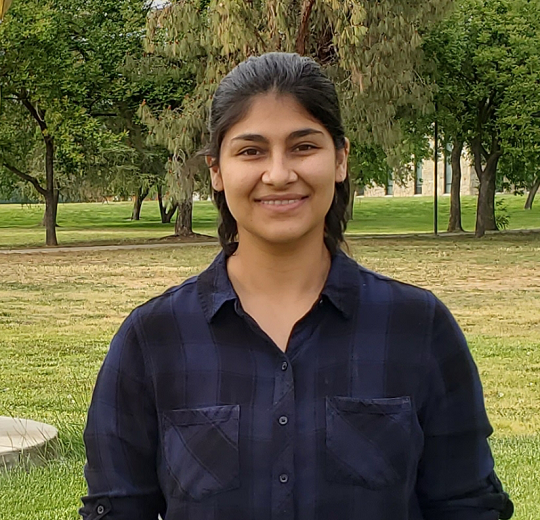 When mathematics major Jasmin Rodriguez first came to Stanislaus State, she quickly impressed Assistant Professor Jessica De Silva with her mathematical proficiency. 
Over the years, De Silva remained impressed as she learned that Rodriguez is also a caring, conscientious and hard-working student motivated to reach her educational goals.    
"Jasmin showed great promise as a rising mathematician when she first came to Stanislaus State," said De Silva. "She is now graduating with top grades in all her mathematics courses and will be continuing her studies at the University of Colorado–Boulder's Mathematics Ph.D. program." 
A first-generation college student from Newman, Rodriguez is graduating with a 3.8 GPA and planning for a career as a professor at a university after she earns her doctorate. 
"I aspire to become a professor of mathematics because I want to provide the same opportunities to students that were provided to me," she said. 
After graduating from Orestimba High School, Rodriguez chose to attend Stan State because she found the Mathematics Department to be very welcoming. 
"I have always felt at home and welcomed here at Stan State," she said. 
While she worked toward her bachelor's degree, Rodriguez learned a lot about time management and balancing coursework, extracurricular commitments, family responsibilities and work obligations. She served in leadership roles with the Stanislaus State Math Club and Circle K International, which focuses on community service. She also cared for young family members and worked to earn money and ease the financial burdens on her family. 
"Jasmin takes care of her nieces and nephews, works at department stores, works as a supplemental instruction leader, grades for various math instructors and the list goes on," De Silva said. "She is motivated by her goal to be in a position where her parents do not feel they need to worry about her, but instead, she is able to take care of them and the rest of her family. This echoes many of the stories and sentiments I hear from other Stan State students, especially those who are first-generation and from underrepresented minority groups." 
Through it all, Rodriguez said, the most powerful thing she learned at Stan State is to have confidence and believe in herself and her abilities, even when she is feeling unsure of herself.  
"You will doubt yourself, a lot. The grade you got on an exam wasn't a fluke, you earned it," she said, referring to feelings of doubt she's had in the past. "But at the same time, grades don't always reflect you and your knowledge." 
#StanGrad File
Degree/Credential
Bachelor of Arts in Mathematics
What memories stand out most from your time at Stanislaus State?
"Stan State hosting Warrior Wednesdays. These were always a blast to attend with friends. It gave me a sense of community." 
Which faculty or staff member had the greatest impact on you, and why?
"Dr. Jessica De Silva offered so many opportunities for me, encouraged me to do research and empowered me to go to graduate school!" 
What advice would you give to current and future students?
"Give yourself more credit. You are here for a reason." 
---
Note: This article is part of the StanGrad series highlighting Stanislaus State students who are part of the Class of 2022. Read more StanGrad profiles.