Note: This article is part of the StanGrad series highlighting CSU Stanislaus students who will graduate this spring. Read more StanGrad profiles.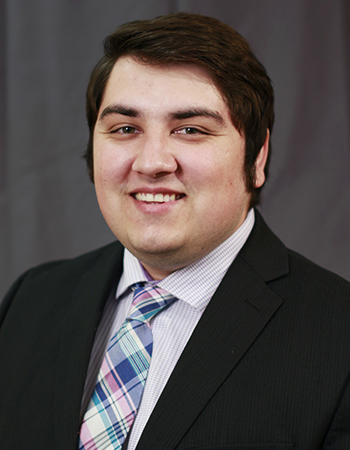 Jon Grammatico feels deep empathy for people left out of the mainstream. The gender studies major has devoted his time at CSU Stanislaus to making sure the campus feels more welcome to students from all backgrounds.
Grammatico served as the president of Love Evolution, a student-led organization that supports the LGBTQ+ (lesbian, gay, bisexual, transgender, queer/questioning) community. He collaborated with Nicole Turner, Greek life programs advisor, on the first Inclusiveness and Diversity Workshop in March. The workshop was well attended and featured presentations from on-campus groups and guests from the community.
He credits his fraternity, Tau Kappa Epsilon, and Trent, his significant other, for being his support network, particularly at his lowest point — losing his grandmother to cancer.
"Trent has been my rock for most of my college career," Grammatico said. "Greek life has made a huge impact on my life, and without a doubt, I am a better person for it. Between the countless community service hours and the money we raise for philanthropies, the world is a better place because of fraternities and sororities."
After completing his undergraduate studies, Grammatico will pursue a master's degree in social work at CSU Stanislaus.
"My ultimate goal in life would be to work for an LGBTQ+ organization," he said. "I have always wanted to work for the Human Rights Campaign, but my passion is to promote equality in any form."
"Jon is an amazing student that continually demonstrates inner strength, perseverance and compassion. His dedication to enhancing the educational experience for all students at CSU Stanislaus is paramount," said Esther McKoon, a lecturer in the Department of Sociology. "I have no doubt that he will positively impact the lives of many individuals. I am proud of his accomplishments and honored to be his friend."
---
#StanGrad File
Name
Jonathan V. Grammatico
Degree/Credential
Bachelor of Arts in Gender Studies,
minor in sociology
What memories stand out most from your time at CSU Stanislaus?
"Most are events my fraternity Tau Kappa Epsilon has participated in, such as the Relay for Life, and others we've hosted, such as Jump for St. Jude's. My greatest memories really aren't big events, but the small everyday things like spending time with friends in the dorms or hanging out at the booth in the Quad."
Which faculty or staff member had the greatest impact on you, and why?
"All the faculty and staff have been wonderful, personable and amazing in their own way. But if I had to pick one, it would be someone who went from being a professor to a friend — Esther McKoon. Esther has helped me grow so much and has always taken time to help me with whatever I need. She's gone above and beyond as a professor and advisor to Tau Kappa Epsilon, and is someone I am glad to have in my life."
What advice would you give to current and future students?
"Don't give up! After losing my grandmother, I was at a very low point. I failed classes, and I'm not ashamed to say that. It's not easy, but everyone on campus wants you to succeed. If you keep that in mind and find a support group, you can accomplish so much. Our campus has so many resources. Take advantage of every opportunity available to you as a student."