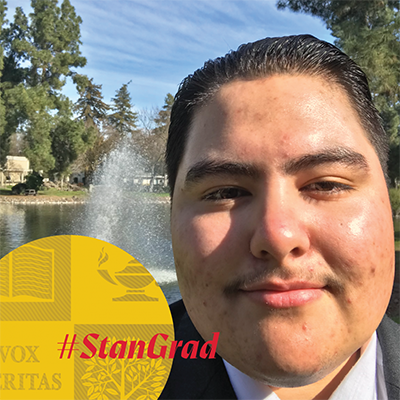 Family always has come first for Germán Astorga.
It's why the Gregori High School graduate, who lives in Salida, opted for Stanislaus State, despite a 4.46 grade-point average that might have earned him admittance to many other universities.
Now, Astorga is the first member of his family to earn a college degree, graduating with a Bachelor of Science in Physics.
Astorga, who has been accepted into Oregon State University's astrophysics Ph.D. program, admittedly started off slowly as a college student.
"I missed crucial opportunities my first two years of college, because I had no time to interact with faculty and students," Astorga said.
During those years, he was working full time as a dock supervisor at the Safeway Distribution Center in Tracy to help support his family. It wasn't until he discovered programs offered by the Physics Department at Stan State, specifically the Louis Stokes Alliance for Minority Participation (LSAMP), McNair Scholars and Cal-Bridge, that he could focus on being a full-time student.
"As a traditionally underrepresented college student, Germán overcame many obstacles during his tenure at Stan State," said Araceli Garcia, director of the McNair Scholars program. "However, he managed to excel in his coursework and share his knowledge of the material as a tutor in physics and a supplemental instructor in chemistry in the University's Learning Commons.
His own experiences and struggles stay with Astorga and inspire him.
"I would like to educate fresh high school graduates on their choices and career paths," he said.
#StanGrad File
Degree/Credential
Bachelor of Science in Physics
What memories stand out most from your time at Stanislaus State?
"The memory that stands out the most is studying with my physics classmates in the Society of Physics Students room in Naraghi."
Which faculty or staff member had the greatest impact on you, and why?
"The three faculty that stood out the most to me were Dr. Wing To, Dr. Brian Morsony, and Dr. Susan Mokhtari. Dr. To convinced me to start research and join the Cal-Bridge program. Dr. Morsony was my research advisor for the McNair Program. Dr. Mokhtari was my Cal-Bridge mentor."
What advice would you give to current and future students?
"Don't procrastinate!"
---
Note: This article is part of the StanGrad series highlighting Stanislaus State students who are part of the Class of 2021. Read more StanGrad profiles.