Note: This article is part of the StanGrad series highlighting Stanislaus State students who are part of the Class of 2020. Read more StanGrad profiles.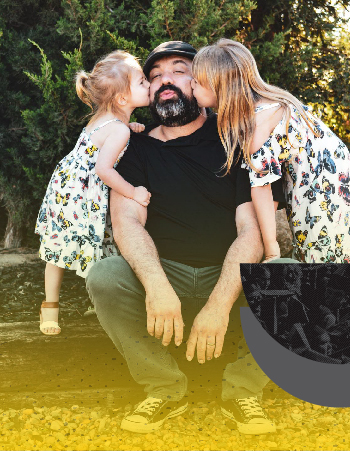 After 14 years of working for FedEx, Stan State graduate Jason Drake is well on his way to a new career as an elementary school teacher.
Getting to this point was not easy for the Denair resident. For the past nine years, his weekdays have started at 3 a.m. so he could attend college, yet he maintained a 3.68 grade-point average while balancing his job and family life.
"My college experience was extremely difficult at times due to me being a father of two daughters, a husband and working at FedEx," said Drake, a first-generation college student who found himself motivated by the challenges he faced.
"All of this has pushed me to complete my dream of graduating college and pursuing my dream of becoming a teacher."
Drake has always wanted to be a teacher. In fact, his job at Fed Ex Freight — as a dock mentor — is a training position that requires him to teach procedures to all newly hired employees at the facility where he works. But now that he has graduated with a bachelor's degree in liberal studies and plans to start a credential program in the fall, he has his sights set on teaching much younger people — kindergarteners and first-graders.
"It was my observations in Debbie Edwards' kindergarten class (at Denair Elementary Charter Academy) that made me fall in love with that grade level," he said. "I found that the energy of children at that age is absolutely amazing and contagious."
Drake started his educational journey at Merced College and transferred to Stan State in 2017. Cassandra Drake, assistant professor of liberal studies at Stan State, describes him as "a student who embodies what Stan State is about," and expects him to become an excellent educator.
"What stands out most is his personality and his passion for issues of equity in education," she said.
Drake plans to make all his professors proud.
"I will try to be the best educator possible and share the knowledge that I have gained at Stan State," he said.
---
#StanGrad File
Degree/Credential
Bachelor of Arts in Liberal Studies
What memories stand out most from your time at Stanislaus State?
"Sitting by the pond by Bizzini Hall and reflecting on how beautiful Stan State is."
Which faculty or staff member had the greatest impact on you, and why?
"To be honest, I have been impacted by all the professors I had the pleasure of studying under at Stan State. However, Dr. Cassandra Drake, Dr. Michael Pagano, Dr. Brian Psiropoulos and Professor Stephanie Jacobs exemplify the passion in teaching that I admire and strive to emulate when I become an educator."
What advice would you give to current and future students?
"Never give up, even when you feel that you can't take any more. Yes, it will be difficult at times, but you will look back on the hard times with a smile and know that they made you grow as a person."