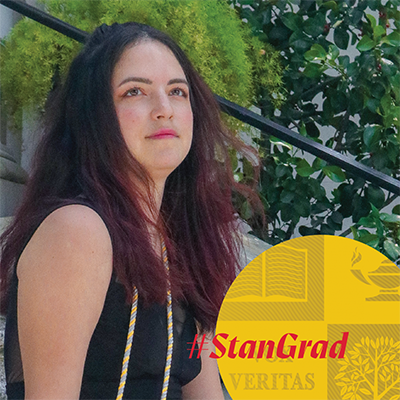 Samantha Thomas found her groove at Stanislaus State.
She overcame shyness and grew into a confident public speaker. She learned about the importance of sustainability, developed a passion for it and shouldered a campus leadership role by serving as president of the EcoWarriors student organization her senior year.
"I have learned many incredible things, the most important being that I am capable of making a difference," Thomas said. "I feel that I have made a difference at Stan State for the future of sustainability, and I will pursue this in everything I do in the future."
A political science major with a minor in philosophy, Thomas hails from the Amador County city of Jackson.  She graduated with a 3.63 grade point average and is headed to Rutgers University in New Jersey to pursue a master's degree in urban planning.
After she earns a master's degree, she plans to build a career working for socially just and environmentally sound land planning.
"I hope to return to California one day to encourage planning that preserves our environment and helps mitigate the housing problem," she said.
With a Stan State education under her belt and the confidence she found leading the EcoWarriors, Thomas looks forward to tackling any challenges she may face in the future.
"I feel like I can do anything!" she said.
#StanGrad File
Degree/Credential
Bachelor of Arts in Political Science
What memories stand out most from your time at Stanislaus State?
"Being a leader with the Eco Warriors was an incredible learning experience and has made me so much more confident in my abilities to persevere and work with others."
Which faculty or staff member had the greatest impact on you, and why?
"Many faculty and staff members had a huge impact on me. However, Dr. Cueponcaxochitl Moreno Sandoval shaped the way I view sustainability with her compassion and advocacy for Indigenous sustainability. Ancestral perspectives of life and land will change the way I engage with land and community my entire career."
What advice would you give to current and future students?
"Getting involved with student organizations or joining student government will lead to a far more fulfilling college experience and prepare you significantly for your career and your passions."
---
Note: This article is part of the StanGrad series highlighting Stanislaus State students who are part of the Class of 2021. Read more StanGrad profiles.